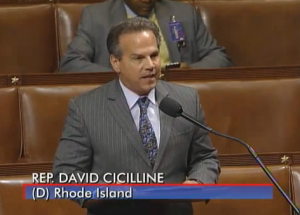 If you are an unemployed Rhode Islander, David Cicilline wants to tell House Speaker John Boehner and the rest of Congress your story.
Cicilline is collecting stories and photographs of unemployed Rhode Islanders as a way to put a human face on a bill to extend federal unemployment insurance that House Republicans are refusing to let come to a floor vote. The Senate bill, championed by Jack Reed and Republican Dean Heller of Nevada, passed with bipartisan support.
"It seems like in many ways unemployed individuals are just invisible to the Republican leadership," Cicilline told me in a phone interview yesterday. His plan is to plaster the outside of his office with pictures of unemployed people.
"Every member of Congress will have to walk through the hallways and see the thousands of Americans who are suffering because of our failure to fix unemployment," he told me. "We can't continue to put our heads in the sand and pretend like this isn't hurting real people."
If you've got a story to tell, you can share it with Congressman Cicilline here. And please listen to our entire interview below, and check our our complete coverage of this bill (no real people though) here.