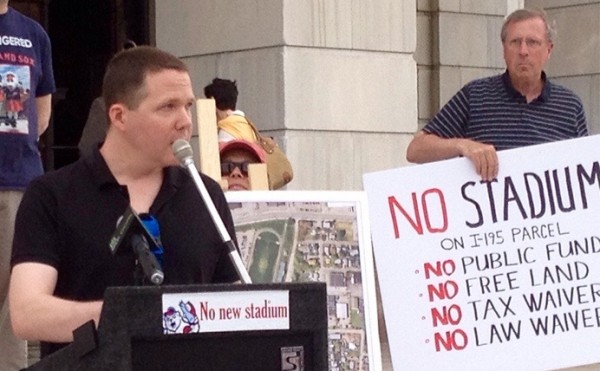 David Norton, one of those most responsible for preventing the new owners of the Pawtucket Red Sox from moving to a proposed new stadium in Providence, has announced his intention to run for the District 60 House seat against incumbent Democrat David Coughlin.
"Today, I announce my candidacy for State Representative of District 60 Pawtucket," said Norton in a statement, "I have many reasons for running for State Representative. My primary reason is the way in which Pawtucket was insulted and ignored by Rhode Island House Leadership during the PawSox fiasco."
According to Norton, Rep. Coughlin, "has a total of $26 dollars in his campaign account. He has not held a fundraiser in years. He doesn't attend events in Pawtucket. He has no presence and is not known by his own constituents in the community of District 60 Pawtucket."
Norton went on to say,
"David Coughlin, essentially, was handed District 60's seat by Rhode Island House Leadership. Let me be very clear on one point, the Rhode Island Speaker of the House Nicholas Mattiello, not David Coughlin, is in control of District 60's seat, as is the case in so many other House Districts in Rhode Island.
"In the 2014 election, David Coughlin ran UNOPPOSED for House District 60's seat, and was given a favored position on the powerful House Judiciary Committee as a freshman legislator, which is likely the reason that he votes as Speaker Mattiello tells him (as so many other Rhode Island legislators are forced to.) I would like to make clear, again, that this is the case in many other House Districts in Rhode Island.
"In reality, I will not be running against David Coughlin, because David Coughlin hasn't got the resources, organization or independent leadership to run against me. The unfortunate reality is that I will be running against Speaker Nicolas Mattiello and the State political machine. Like so many other seats in the Rhode Island House of Representatives, the Speaker owns District 60's seat by way of doling out favors in the form of legislative grants and favored committee positions, as is the case in District 60.
"The only way Speaker Mattiello can keep District 60's seat as his own is to pour money into my opponent's campaign. The only way the Speaker can hold District 60's seat is to send an army of anti-McCoy Stadium door knockers or other House Leadership Members to invade Pawtucket to win this race for David Coughlin.
"I like David Coughlin. He is a nice guy, as far as I know. This isn't personal: this is political. Politics is a fight. I am a fighter. I want the people of District 60 to have an independent voice at the Rhode Island State House. I want to be that voice."
David Norton announces run for District 60 House seat in Pawtucket

,