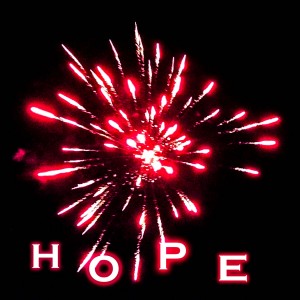 Is it possible to restore hope to Rhode Island?
The state's economy is stagnant. The government is shadowed by reports of corruption. The physical landscape is only just showing signs of
what lies beneath the greying piles of snow and ice, and revealing an infrastructure pockmarked by craters in the roads and residual grit and slime from salt and sand trucks that dominate the narrow roads. Has the last year of blame and struggle and polarization and polar vortex broken the spirit of our small and weary state? Or does Rhode Island have what it takes to rekindle the dying embers of hope?
It is so much easier to be cynical than to be hopeful. Cynicism is immediately gratifying and triggers a feeling of superiority. It also hedges one's emotional wager. If one proclaims expectations of only the worst, one is rarely disappointed. Rhode Islanders have become cynical. All too often, when sifting through the opinion section of a local news source, one reads a commentary on an instance of corruption, written with the air of "Expect nothing less in Rhode Island," and "Of course so and so did such and such. That's Rhode Island for you. And nothing will ever change." It is not long before even those who have demonstrated intentions and actions that are altruistic, honest attempts at being good and true are labeled as foolish, false, and doomed.
This dark cloud is not without merit. The chicken and egg debate of cause versus symptom aside, Little Rhody has more than its share of stains on our white collar. Most recently, the light shed on Gordon Fox's poor moral and legal decisions has forced the deep-rooted shoots of contempt to grow upward through the frozen ground and the mountains of snow blanketing the state. This comes on the heels of a state representative copping to tens of thousands of dollars in misappropriated campaign finances, a twice-convicted felon running for a third term as the capital city's mayor, vicious primary and general election cycles, the timeline of the 38 Studios fiasco … the list goes on and on.
Some readers will remember the 1980s. The eighties were also a time of economic decline; of manufacturing abandoning the state for elsewhere and recession teetering on the brink of depression. In 1982, there was an ad that ran on television for Rhode Island: The Biggest Little State in the Union. Some may remember the jingle and the miniature hot-air balloons rising in front of the State House. It was a dedicated campaign to try and instill pride in Rhode Island. It was schlocky. It was self-contradictory. But it was hopeful. The most interesting feature of the ad campaign was that it only ran in Rhode Island. It was not a national tourism commercial. It was an attempt to remind Rhode Islanders how great Rhode Island is. Or, at the very least, remind them to laugh at themselves and spend some Rhode Island dollars in Rhode Island, on Rhode Island-made goods.
This is not to suggest a repeat of the 'Biggest Little State' campaign. However, even self-deprecating humor is more productive and less poisonous than angry contempt. Moreover, pure sneering negativity, of the sort spreading like a virus through the social media networks that connect people to sources of news, and subsequent spite, faster than ever before, passes down through generations and hurts the chances of anything ever changing. Repeating the idea that nothing ever changes in Rhode Island, reinforces the probability that nothing ever changes. It is the textbook example of the self-fulfilling prophesy. By passing down a misanthropic and forlorn image of Rhode Island through generations, cynicism is dooming the state.
The economy is not Rhode Island.
The government is not Rhode Island.
The potholes are not Rhode Island.
The people are Rhode Island.
The Rhode Island state flag does not bear the motto "money." The license plates (nope, none of them) are embossed with the phrase "the know-a-guy state." The Ocean State flies a flag with the state motto: Hope. Should the state change the flag, change the license plates, or should the state – the people of Rhode Island – change their prevailing sentiment from one of resignation to the worst case scenarios, to one that assumes the overwhelming power of the ocean and floods the population with hope?
A population filled with hope is a population that can attract success, retain success, and create success. While Rhode Islanders most certainly disagree on their definitions of success, most can agree that what Rhode Island is currently experiencing could be better. Yet, the rhetoric reported by so many says it simply cannot. A people who can hope are a people who can also dream, innovate, and change the course of their own history.
 "another tradition to politics, a tradition (of politics) that stretched from the days of the country's founding to the glory of the civil rights movement, a tradition based on the simple idea that we have a stake in one another, and that what binds us together is greater than what drives us apart, and that if enough people believe in the truth of that proposition and act on it, then we might not solve every problem, but we can get something meaningful done." Barack Obama, The Audacity of Hope: Thoughts on Reclaiming the American Dream
Rhode Islanders have a right to be upset with politics, the economy, the weather, and each other. But so too do citizens have a choice to either wallow in self-indulgent blame and acceptance of powerlessness, or seize hold of a collective hope for an environment in which generations to come can thrive and proudly call home. Whether one supports the President or detests him, his point in the quoted passage with regard to having a stake in one another is what can give Rhode Islanders hope. What binds us together as citizens of this smallest of states is greater than what drives us apart. There will always be strife, disagreement, crime, and disappointment in Rhode Island. Yet, just as the state's collective history has built its character, it is how people react to such adversity that reveals character.
Let our character be bound together not by defeatism, but by hope.
Dear Rhode Island, try Hope

,