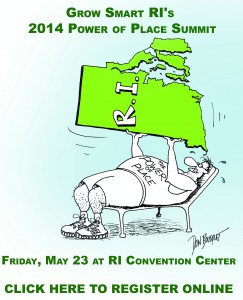 If you're like some key local pundits and bloggers, you believe that Rhode Island is a hopeless economic and political basket case that can't seem to do anything right.
At Grow Smart RI, we think this conclusion is as off base and dangerous as the notion that Rhode Island is performing up to its potential—to the point where no major public policy changes or new investments are needed to improve our economic performance.
Why "Hopeless" Rhode Island is a Myth
Let's pretend for a moment that the Ocean State is actually a total economic and political basket case. The following would not be a reality:
Attracting the world's largest distributor of organic foods (UNFI)
Emerging as a national center for world-class brain research
Gaining a national reputation for facilitating business startups
Attracting national acclaim for coastal resiliency planning
Moving rivers, railroad tracks, and highways to revitalize and visually enhance our major city
Our capital city of Providence having a vibrant food and music scene, which contributed to its recent distinction as #1 on Architectural Digest's "Best Small City" list.
You would agree that—while this list is not exhaustive by any means—all of these indicators validate and radiate what our state motto claims: there has, and always will be, hope in Rhode Island.
Playing to Our Strengths
Despite these and other signs of progress and competence, Rhode Island today, with its relatively high unemployment and underemployment rate, is a major economic underachiever that has tremendous untapped economic and social potential.
Among the assets that we can leverage and capitalize on much more systematically and aggressively are:
Our outstanding collection of historic buildings and neighborhoods
Our well positioned deep water ports and harbors
Our good fortune to have more college students per capita than almost any other state in the country; with highly ranked design, research, culinary, oceanography, and business schools, as part of the vibrant local mix
Our compact size and development patterns
Our easy access to diverse natural resources and beauty
Our strategic geographic location within a day's drive of more than 40 million people and
Our distinctive urban rural balance as the 2nd most urbanized and 16th most forested of the 50 states
Our 2014 Power of Place Summit: Positioning Rhode Island for an Economic Renaissance 
Grow Smart RI is convening a broad cross section of more than 500 Rhode Islanders on Friday, May 23rd at the RI Convention Center to learn from one another how to play more effectively to these and other strengths.
By doing so, we're challenging ourselves to go beyond the negative headlines and the superficial whining that dominates too much of life in the Ocean State today.
We will learn from each other: exploring successful smart growth policies, partnerships, and projects that are already working to move our state forward, as well discussing those that have the potential to do the same.
And we will be sending a clear message regarding our economic woes: that while a sense of urgency is warranted and can serve as a catalyst for solutions—one of hopelessness and desperation is unwarranted and counterproductive.
The dialogue about Rhode Island's future needs more balance, and more connection to reality vs. knee jerk negativity. We intend to push the dialogue in this direction, even if it requires confusing some people with the facts.
If you're willing to move beyond stewing to doing, join us on May 23rd at our 2014 Power of Place Summit. [REGISTER HERE]. We look forward to seeing you there.