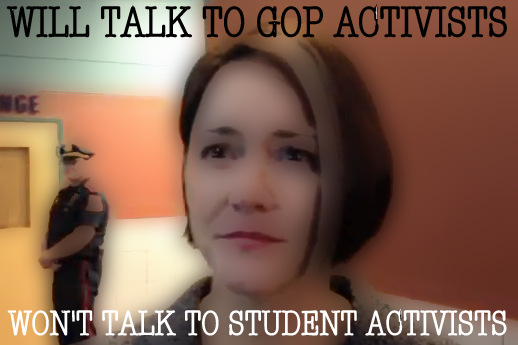 The Providence Student Union, a group of inner city high school students who have made national news organizing against high stakes testing, have begged Deborah Gist to engage them and she has systematically rebuffed their requests. She's even has gone so far as to publicly encourage others to ignore them.
On the other hand, she'll gladly make time for the Rhode Island Young Republicans.
Ignoring student activists and engaging conservative politicians is just one of the many ways Gist continues to be a divisive force in public education. On Friday, she claimed to have not read a report that was critical of teacher evaluations, a major initiative of hers and, not to mention, the subject of her PhD thesis.
Yesterday on Twitter her disdain for her detractors was more subtle but still present. Providence mayoral candidate Jorge Elorza said he disagreed with the NECAP but not high stakes tests in general. Gist felt that was "Excellent news!" for her. It was disturbingly more political than that of the candidate's. More worrisome is that Gist missed the gist of the tweet – yet another public voice against the NECAP test. She's seemingly deaf when it comes to any and all disagreement.
The Rhode Island Progressive Democrats and/or the Young Democrats of Rhode Island ought to ask her to come talk to their groups as well.