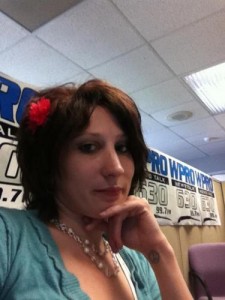 WPRO digital reporter Dee DeQuattro is leaving the station she is suing for a new job on December 21. On January 2, she starts as the assignment editor for ABC 6 and ABC6.com. She'll also do a morning TV spot and keep her own political blog in her new position.
"I'm excited to pursue a new endeavor and transition to tv after working in radio for the past five years," DeQuattro told me this morning.
She would not comment on her lawsuit alleging that DePetro sexually harassed her. When I asked if she was sad to be leaving WPRO, she said:
"Not sad. I'm excited and enthusiastic to move on in my career and I expect to maintain professional relationships and personal friendships with some of the people I met working here."
She confirmed that she is leaving the Salty Shack after I got an email forwarded written by station manager Craig Schwalb to WPRO employees wishing her good luck in her next opportunity.
The email from Schwalb, according to the employee who shared it with me, said, "Want to say thanks and good luck to WPRO-AMs web producer/reporter Dee DeQuattro who will be moving to ABC 6 for a new job there. We wish her nothing but the best in her new role and thank her very much for helping make 630wpro.com what it is today.
"We will be working with Dee next week to transition into our interim plan until a replacement can be named in the coming weeks."
Full disclosure: I was DeQuattro's manager at WPRO and am referenced in her lawsuit for statements DePetro made to me about DeQuattro and her allegations after they became public.
Web Editor Dee DeQuattro Is Leaving WPRO for ABC6

,