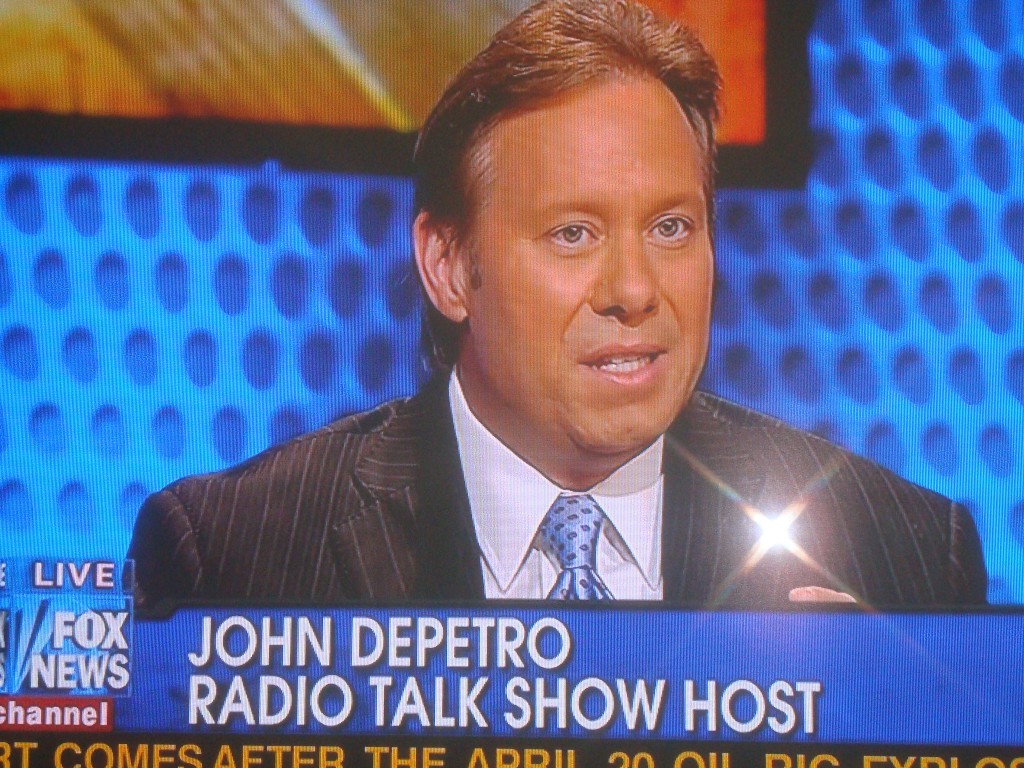 The racist comments allegedly made by Clipper's basketball team owner Donald Sterling to his girlfriend V. Stiviano provided local talk radio jerk wad John DePetro the perfect opportunity to demonstrate his race-baiting skills.
Under Depetro's careful shepherding, callers were invited to defend Sterling's comments because he's a tired, possibly drunk old man who doesn't fully understand modern society, or more ominously, because Sterling's a victim of a conspiracy hatched by former basketball player Magic Johnson, who wants to buy the Clippers for himself. See, it's not the old racist white guy's fault that he's an old racist white guy, it's the black guy's fault.
Along the way DePetro proved the point I made last week about how there is essentially no difference between WPRO News and WPRO Talk. When Jim Vincent, President of the Rhode Island NAACP appeared on Jim Valicenti's morning news program, did he know that his words would be used against him repeatedly during DePetro's broadcast? DePetro hoped that the mere mention of the NAACP would stir the racist "hearts" of his listeners, riling them to say nasty things on the air.
(Vincent's comments allowed Depetro the opportunity to tell the audience that he didn't think 12 Years a Slave was Academy Award worthy and that the only reason it was in the running was because it had the word "slave" in the title. A quick look at a list of Academy Award winning pictures show that 12 Years a Slave is the only film with that word in the title to have been nominated for best picture, so make of that what you will.)
The strategy DePetro uses is to phrase every bit of racism and race baiting that dribbles from his mouth as a question. Are old racist people really racists, DePetro asks, inviting his listeners to call in and make excuses for the people in their lives who behave similarly to Sterling. Depetro's callers respond by excusing Sterling's racism, picking up on DePetro's cues that the man was old, tired, possibly drunk, speaking with the expectation of privacy, recorded without his knowledge or the victims of a Machiavellian plot engineered by Magic Johnson. His callers buy into Depetro's narrative, never once thinking that they are being cruelly manipulated as DePetro consumes the resulting bigotry like a psychic vampire.
Perhaps DePetro's most interesting critique was his claim that the Democratic Party and local unions were the most racist institutions in Rhode Island. DePetro listed off a series of white male union heads and politicians as proof of his contention. Are minorities under represented in positions of authority throughout Rhode Island? Absolutely. Is John DePetro bringing up this issue out of a deep concern for minority rights and representation? Please.
Following DePetro's lead, I made my own list of white males:
Gene Valicanti, John DePetro, Dan Yorke, Buddy Cianci and Matt Allen.
Obviously, following DePetro's logic, WPRO is the most racist radio station in New England. Looking at WPRO's "Shows and Staff" page, I don't see a single person of color listed.
DePetro carefully engineers his show to bring out the very worst in his listeners. He has built a show in which anger, confusion, bigotry, intolerance, hatred, racism and misogyny can thrive because, apparently, this is the kind of thing the Associated Press looks for when they give out the award for Best Talk Show.
For Our Daughters, the campaign to have DePetro fired in the wake of his misogynist comments about women union workers, should expand the scope of their campaign to include everyone offended by DePetro's ugly race-baiting. The show is a blight on the soul of Rhode Island. Removing Depetro from the air would not just be good for our daughters, it would be good for our very humanity.
Lest you think I'm taking DePetro out of context, listen to his full comments on the subject here: