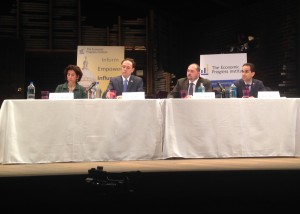 One difference between the Democrats running for governor that came to light at the Economic Progress Institute's forum last week was how they would pay for the state's healthcare exchange when federal funding runs out. States must pay for their own healthcare exchange websites in 2015 and Rhode Island's costs approximately $25 million a year.
Gina Raimondo stood alone in saying Rhode Island's remarkably successful healthcare exchange should be scaled back, specifically saying the consumer services built in may have to be scaled back:
Angel Taveras said funding the exchange would be a top budget priority of his, if he is elected governor:
Clay Pell said he would be "absolutely committed to funding it."
And Todd Giroux said we should start paying for the exchange by not paying the 38 Studios loan.
When Ian Donnis reported on this, he suggested Raimondo "was a little more specific" than the other candidates. Or maybe she's just the only one who wants to scale it down?
Below is the full six minute segment on the health exchange and you can watch the entire Economic Progress Institute governor's forum here.