"Hope means struggle, and the struggle never truly leaves any of us." – Rev. Cecil Williams, Glide Memorial Church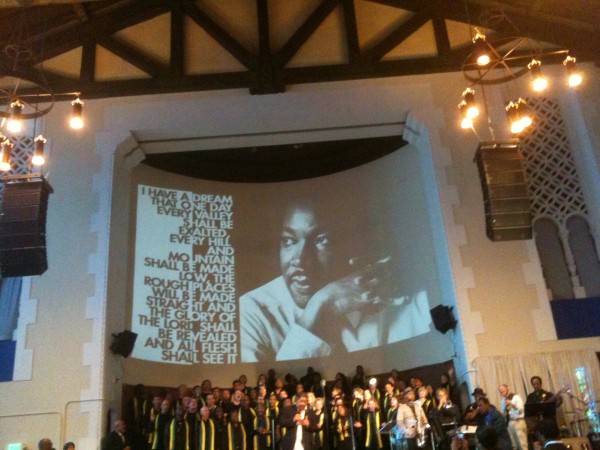 Glide Memorial is a wild celebration of life in San Francisco, at the intersection between the working class Tenderloin neighborhood, and the Mid Market world of shops, street cars, and high-end hotels.
Whatever you experience about wealth inequality in Rhode Island, hardly anywhere compares with the income gaps in the San Francisco Bay area. In one of, if not the, richest cities in America, hundreds of people tonight will sleep under highway bridges. People are lying on the street in drug induced dementia.
Glide is a church – a community – that has incubated dozens of non-profits, connects thousands of individuals, and has helped many heal and grow. Glide's role is mediator and connector in a city that is often so strangely and starkly disparate and uneven. If every church in the US functioned like Glide, we would live in a different country.
The leaders who helped create the current version of Glide, Cecil Williams and Janice Mirikitani, intentionally have created a diverse community of doers, that attracts dozens of visitors every week.
Glide has been criticized for being too radical, too showy, untraditional, too establishment, over the top, disingenuous. Yet, day after day, people keep coming, people keep connecting, people keep growing, giving, laughing, together.
A Sunday celebration at Glide is disorienting – in a positive way.
The room is packed- hundreds of people. Some are very wealthy, some are very poor. The music is 70s soul and 60s gospel.
The choir has voices that tell stories- some of which, from the depths of their voice, you can tell they've been to hell, or at least its brink, and turned around, and kept fighting, kept growing and found a new way.
Gay and straight, from every ethnicity, this community gathers to sing – loudly – and clap – powerfully – and praise and inspire.
Radical inclusion is the style, ethos, and practice. For some humanists, Glide is a community and place of reflection and action. For some believers, Glide is a site of worship and action. Radical inclusion in service of justice is the ethos.
At the end of the celebration, this community – Black, White, Asian, Brown – holds hands, reaches up and sings "We Shall Overcome."
At Glide, however, you do not sing "We shall overcome some day," but, instead, "we shall overcome today."
Today, not tomorrow, not in the beyond, but now.
As we're reading about the cancers of racism, it's worth holding up a reminder that even in this painful world – especially in this painful world – there are communities of people gathering and reaching to celebrate, support, and act for something healing, connecting, and better.
Diverse community of doers at Glide Memorial

,