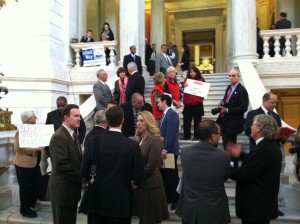 Activists, citizens, legislators, the General Treasurer and three Republican mayors gathered at the State House to voice their opposition to the usurious payday loan schemes practiced by companies like Advance America, and Check 'n' Go. These businesses overwhelmingly serve the poorest Rhode Islanders, and have a tendency to put those who partake of their services in a spiral of debt through annual interest rates of 260 percent.
The RI Payday Lending Reform Coalition includes groups that span age, color, creed, and socioeconomic brackets like AARP, The RI State Council of Churches, the RI Latino PAC, the NAACP and CommunityWorks RI.
The reform legislation would cap APR at 36 percent. Some activists think this is the year it will pass, but not until a compromise APR rate is reached somewhere between 260 percent and 36 percent.
Rhode Island is the only New England state that allows payday lenders, and Congress passed a law recently making it illegal to locate them near military bases. A recent Pew report said most of people who take out payday loans had another, more reasonable, avenue to obtain short-term financing.
"Payday loans are marketed as an appealing short-term option, but that does not reflect reality. Paying them off in just two weeks is unaffordable for most borrowers, who become indebted long-term," said Nick Bourke, Pew's expert on small-dollar loans. "The loans initially provide relief, but they become a hardship. By a three-to-one margin, borrowers want more regulation of these products."
The press conference featured bill sponsors Rep. Frank Ferri and Sen. Juan Pichardo, along with Mayors Avedesian, Fung, Diossa, and Fontaine of Warwick, Cranston, Central Falls, and Woonsocket, respectively.
[vsw id="CMZJNR5lvHE" source="youtube" width="525″ height="344″ autoplay="no"]
"In poverty, there is money to be made," said Sen. Pichardo, "These most vulnerable communities have historically been targeted for products, financial and otherwise, that are not in the community's best interest."
Pichardo said his mission is to protect low-income and minority populations by providing them with the right information to ensure their long-term financial health.
When asked if there was any data suggesting that folks who are receiving federal and state aid are also relying on payday lending to make ends meet, Margaux Morrisseau, Co-director of Rhode Islanders for Payday Lending Reform said, "It's difficult to determine exactly who is taking out these loans. The Department of Business Regulation captures a very narrow band of data on these lenders. There is very little sharing of information between departments. What we do know is that many of the people who have fallen into the Payday Lending debt trap are frequenting food pantries to feed their families."
[vsw id="_FNpAf6LRPY" source="youtube" width="525″ height="344″ autoplay="no"]