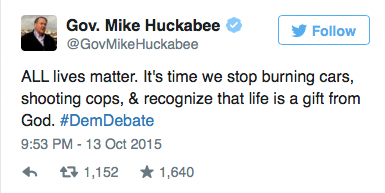 At the Democratic National Debate on Tuesday a question was asked, "Do black lives matter, or do all lives matter?"
There was an astounding response on Twitter from many Republican politicians exclaiming furiously that, "All lives matter!"
At issue is the meaning of #AllLivesMatter. The question must be asked, "Do all lives really matter?"
I work in the Massachusetts public defender's office as an attorney representing indigent people accused of criminal offenses. I have stood in court and advocated for homeless people, the mentally ill and substance abusers. My Christian upbringing taught me what you do for the least among us — the hungry, the poor, the incarcerated, the sick — you have done for God. In other words, #AllLivesMatter.
What about the undocumented immigrants that many people want rounded up and deported immediately from this country? They too can be law-abiding citizens, who may have overstayed a Visa. They have parents, children, and spouses in this country. They should be acknowledged as people if #AllLivesMatter.
What about the Syrian refugees? Their country is being torn apart and many are fleeing to come to a safe place. They have nightmare stories of leaving their families, watching children die in the streets and fearing for their next breath. We should welcome them in open arms if #AllLivesMatter.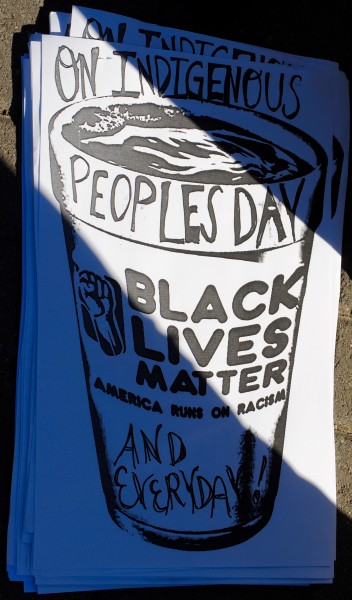 What about the people I represent? At every turn I make in life, people remind me that I represent the "dregs of society," and I am wasting my time. But I have always seen my clients as people, maybe a little broken, but still people because I believe that #AllLivesMatter.
The #AllLivesMatter movement could be a great one. The idea is that every life is precious and should be treated with dignity, respect and compassion. However, it doesn't seem like the people who say #AllLivesMatter have much care for people living in poverty, as undocumented immigrants or if they happen to be Syrian refugees.
If one were to truly believe that #AllLivesMatter, then the homeless matter; the incarcerated matter; the single mothers matter; the refugees matter; if it has a pulse then it matters. This means police lives matter.
The United States of America has a long history of treating black people like their lives do not matter. America enslaved black lives, segregated black lives, and still has laws that disproportionately affect black lives.
Therefore, to answer the question of whether black lives matter or all lives matter, there is only one true answer:
#AllLivesMatter cannot be true until #BlackLivesMatter.
#BlackLivesMatter
Do #AllLivesMatter?

,