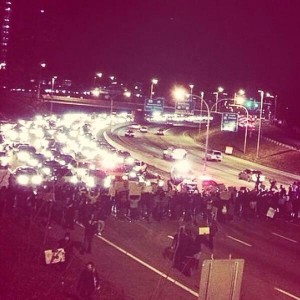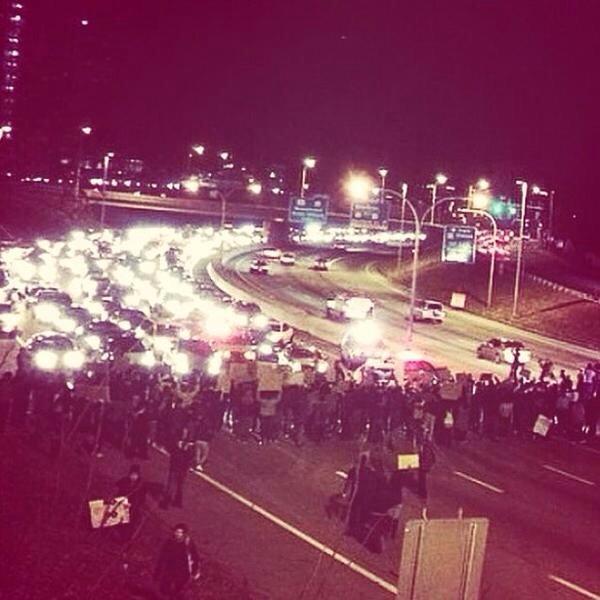 If you want to speak your mind, you have the right in America to protest from the sidewalk. But if you want to make Americans pay attention, block the highway.
This tactic has been a signature action of the Black Lives Matter movement. More than 200 times since the Ferguson grand jury decision in late November have activists from across the country taken to interstates and major thoroughfares with the express purpose of stopping traffic.
It began with protesters taking to the streets as a part of larger protests, as happened here in Providence on November 26 when activists temporarily shut down Interstate 95. Last week it evolved into something different: a relatively small and organized group of mostly non-Black people chained themselves to cement barrels on Interstate 93 outside Boston during rush hour.
It was not an emotional reaction at a highly charged event, it was a coordinated sabotage of traffic.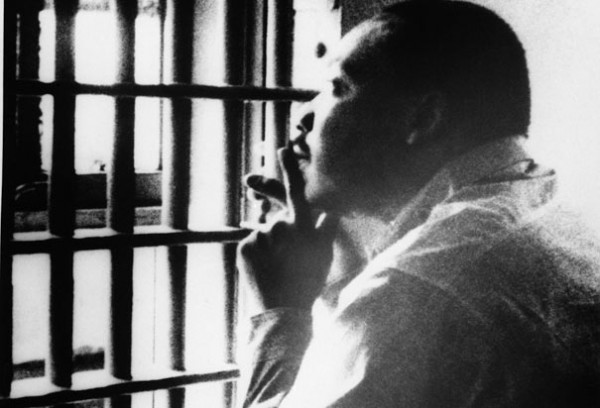 It is not quite the same as the nonviolent direct action Martin Luther King defended in his must read Letter from a Birmingham Jail.
Indeed it's perhaps closer to the "bitterness and hatred" among the movement that "comes perilously close to advocating violence" he warned against in his famous letter.
By this measurement, the Black Lives Matter movement isn't strictly a peaceful protest. And quite frankly, it never was a particularly peaceful protest.
"It's no longer about peace," local activist Jared Paul, who helped block the highway here in Providence, said to me when we sat down to talk about it on Friday. "It's about justice."
No one should relish in this. But everyone needs to understand that institutional injustice for anyone is far less peaceful than morning gridlock for everyone. Or as King put it in his letter: "Injustice anywhere is a threat to justice everywhere."
Predictably though, many people of privilege are annoyed. This isn't some sort of unfortunate side effect, this was the stated goal. The idea was to force a conversation. The idea was to make people feel the frustration of a system doesn't work. Many of us have just never had to face that reality.
For what it's worth, King, in the same letter, had choice words for those who "more devoted to 'order' than to justice." He wrote:
"I have almost reached the regrettable conclusion that the Negro's great stumbling block in his stride toward freedom is not the White Citizen's Counciler or the Ku Klux Klanner, but the white moderate, who is more devoted to "order" than to justice; who prefers a negative peace which is the absence of tension to a positive peace which is the presence of justice; who constantly says: "I agree with you in the goal you seek, but I cannot agree with your methods of direct action"; who paternalistically believes he can set the timetable for another man's freedom; who lives by a mythical concept of time and who constantly advises the Negro to wait for a "more convenient season." Shallow understanding from people of good will is more frustrating than absolute misunderstanding from people of ill will. Lukewarm acceptance is much more bewildering than outright rejection."
.
But for my money, King has an even more prescient line in his famous letter which I think is the standard by which everyone should approach all struggles from justice:
"If I have said anything in this letter that overstates the truth and indicates an unreasonable impatience, I beg you to forgive me. If I have said anything that understates the truth and indicates my having a patience that allows me to settle for anything less than brotherhood, I beg God to forgive me."
Do tactics matter more than Black lives? An MLK defense of highway blockers

,