Dear affordable housing-hating Barrington,
This is some friendly advice for you from your cross-Bay rival for best public education community in the state, East Greenwich. You might have higher NECAP scores but we have something you don't: diversity.
A lot of people know us as a snobby suburb where affluent executives sleep and send their kids to school, just like you. But what a lot of people don't know is that, unlike you, we also have a historic downtown that is the best neighborhood in the state. And a giant reason why it's so great is because it's extremely economically diverse.
Minimum wage workers live right down the street from the 1 percent in the Hill and Harbour District. In a neighborhood with only about 800 buildings, there are 230 units of state-approved affordable housing, which doesn't include all the Section 8 vouchers (which are mobile) and all the effectively-affordable housing in terms of apartments for under $1000 a month.
My neighborhood is packed with poor people. I live near dishwashers, line cooks, quahauggers, landscapers and laborers. But the rich folks love it too. I also live near doctors, lawyers, business tycoons, TV stars and political heavyweights.
This is the neighborhood where both Don Carcieri and Al Verrecchia lived before they moved to waterfront mansions. (Little-known RI trivia: they lived in the same house on Marion Street – the Carcieri family in the 1970's and, after another owner, the Verrecchia family in the 1980's.)
It's also where Rhode Island's most renowned architect Don Powers lived before moving to Jamestown (all great RI architects eventually live in Jamestown) Powers is designing the controversial affordable housing project in Barrington and he also grew up there; but when he was picking his own home, he chose good old downtown EG.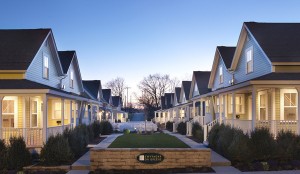 When Powers proposed the Greene Street Cottages project referenced in the Journal article on Friday, it was embraced with open arms by my neighborhood. Diversity doesn't scare us in downtown East Greenwich. The rest of the town is just as deathly afraid of it as you are, Barrington. But here in the Hill and Harbour District, we know that diversity breeds understanding. And understanding is education. Even if it's not the kind of education that shows up on standardized tests.