Those writing about the Israel-Palestine conflict often demonize one side or the other, not that hard to do as both have done, and are doing, bad things. But neither Israelis nor Palestinians can make the other side surrender, go away, or disappear, so conflict continues and the demonization doesn't get either side anywhere. Indeed, this is one element of the destabilization of the Middle East which is putting the whole world at risk.
However, it is possible to be both pro-Israel and pro-Palestinian, not by spreading hate one way or another, but by working for a two state solution where Israelis and Palestinians each have their own state. This will require efforts at reconciliation, mutual understanding, and compromise on all sides.
Indeed there is a local RI effort to this end. On April 7, 8, 9 an Israeli settler and a Palestinian activist now working for peace will be talking about "Seeing the Humanity in Your Enemy" at Brown, a synagogue, and a mosque.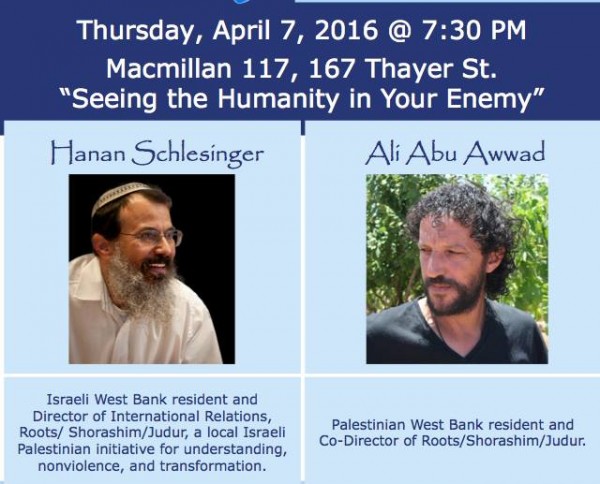 The outlines of a two-state solution have long been evident. The Israelis will have to give up the dream of incorporating most of the West Bank, stop the settlement expansion and withdraw from some of them, allow East Jerusalem to be the Palestinian capital, share resources more equitably, end their Gaza blockade, allow freer passage between Gaza, the West Bank, and the rest of the world. Palestinians will have to give up the dream of "right of return" for refugees and descendants to go to Israel, call off boycotts, stop the digging of attack tunnels, accumulating rockets and their occasional firing from Gaza, stop the incitement to kill Jews and the celebration of those who do, accept some temporary security arrangements Israel will insist on, and possibly, allow some Jews to live in their Palestine state. Both sides will have to genuinely accept the national aspirations of the other.
Failure to do these things means the conflict continues. Israelis will live under threat of terrorism, their internal democracy and world standing erodes, and desperate Palestinians will smuggle in even more powerful weapons. Palestinians will continue to suffer under occupation, their area of control will be eroded further, there will be occasional hurtful Israeli reprisals, and the Israeli extremists will grow and do more depredations. This serves neither those who think they are pro-Israel nor those that think they are pro-Palestinian, nor the US whose interests are best served by a resolution to this conflict.
So even though there are no current negotiations, we cannot afford to give up on a two state solution. There is some basis for hope. Despite the extremists, significant numbers of Israelis and Palestinians understand that a two-state solution is in their interest. While it won't be easy, the United States with our vast power and influence, is uniquely positioned to help jump-start a process to bring this about.
President Obama, before he leaves office, could still help by formally outlining what a reasonable two-state solution would look like with regard to boundaries, trade rules, security arrangements, and religious accommodations. I believe he will find support for this initiative within in the American Jewish and Muslim communities. Any success would be a great legacy for him, a boost to US interests, and greatly benefit both Israelis and Palestinians. After all, with its climate, Mediterranean shoreline, wealth of history, and most of all, the talent of the people of the region, Israel-Palestine can have a wonderful future if only peace can be achieved.
Don't give up on two-state Israel Palestine solution

,