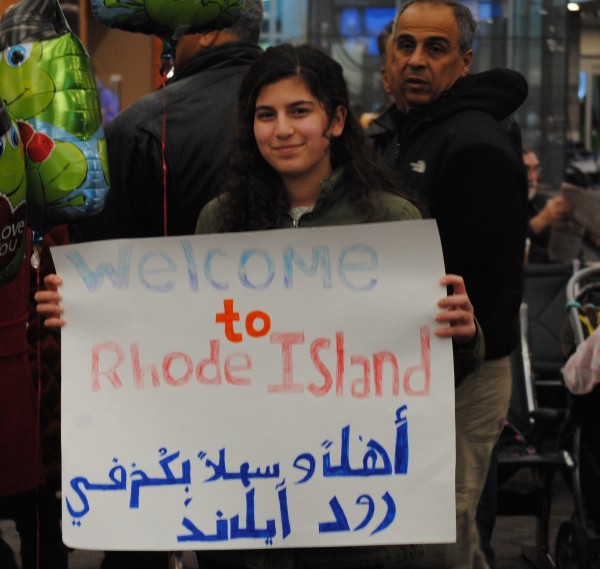 A family fleeing war-torn Somalia was expected to arrive in Rhode Island today. A young man from Syria was supposed to come last week, but a one week change in travel plans has made all the difference. Dorcas International, the organization that resettles refugees in Rhode Island, had apartments rented and ready to go for both of them. But because of President Donald Trump's executive order on immigration and refugees, they didn't make it to America, and no one seems to know what will happen to them.
"They have been deleted," said Jessica Barry, a spokeswoman for Dorcas. "I know, it's a terrible word. Their travel plans have been cancelled. It's really tragic."
The Syrian man was supposed to move here last week, but his schedule was delayed for different reasons. Because of that, he may never make it to the United States.
"We don't know if they have to go to the back of the line," Barry said. "We don't know what will happen to them. It feels really confusing and awful. They've been in the refugee process for several years. We don't where they will end up."
Mentioning Canada, she said, "It's certainly possible another country might take them in."
Trump's controversial and chaos-causing  EO stops all refugee resettlement for 120 days and prevents indefinitely all immigrants from Iran, Iraq, Libya, Somalia, Sudan, Syria and Yemen.
A family of five Dorcas is resettling "in the next few days" from the Democratic Republic of Congo might have different luck. The 120 day refugee blackout, according to the executive order, doesn't technically start until Friday, Barry said. The Somali families fell into an awkward window where no one seemed to know how to handle Trump's executive order on immigrants from some Middle Eastern countries and refugees.
Dorcas has resettled 99 refugees in Rhode Island since October 1. From Syria, Rhode Island has taken in 40 people consisting of seven families; 9 from Iraq (a family of four and five single adults); 23 people from Congo (five families and three single adults); 24 from Somalia (three families and six single adults); and one adult from Bhutan.
Dorcas expected to resettle another 107, but the executive order has obviously put those plans on hold.
"We expect that number will be cut," Barry said. "It might be cut in half, or less. We're really unsure what that number will be."
43 refugees were expected from countries Trump's proposal would deny; 30 from Syria and 13 from Iraq. 34 refugees were expected from Congo, 20 from Somalia and 10 from Burundi, a small African nation south of Rwanda.
Dorcas helps refugees find a job, job training if needed and a place to live, as well "some cultural orientation," Executive Director Kathy Cloutier told RI Future in September 2015, explaining the refugee process in Rhode Island.
Ed. note: This post has been updated to reflect accurate number of refugees in Rhode Island as of this year. The first draft inadvertently left out one family from Iraq. 
Trump immigration EO kept a Syrian, Somali refugees from Rhode Island today

,