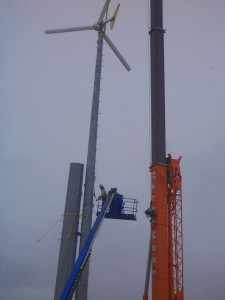 Among dark and cloudy skies, the East Matunuck State Beach pavillion construction project saw the rise of its newest addition Thursday, a 120 ft., 10-kilowatt wind turbine.
One of DEM's renewable energy projects, the wind turbine, along with solar panels installed on the facility's roof will generate 21,000 kilowatt hours of electricity per year, saving the state an estimated $5600 annually, per DEM estimates.
Daniel Valcourt, Project Manager for Pezzuco Construction, says the facility is on track for scheduled opening on May 12. "Workers are readying the facilities for weekend open as of May 12, prior to the official beach opening on Memorial Day."
A Low Energy Electron Diffraction (LEED) project, the green $4 million revitalization effort, a complete reconstruction of the facility, is a major step in environmentally sound  construction, operation and management of DEM facilities. The East Matunuck Pavillion project will include a solar-heated water system and composting toilet system, reducing effluent waste product from the property by as much as 95%.
A move toward the future in harnessing clean energy resources, the facility sitting on the shore of East Matunuck State Beach, quiet now with the ebb and flow of the tide raises the bar for future projects to come.