Planning to hire Tony Lepore, the former Dancing Cop, "was something to just add to the East Providence Christmas season," said East Providence Mayor Tommy Rose, "It was nothing more than that, It wasn't to be taken any other way but that. I'm sorry about the way it was perceived throughout the area and we would like to move forward with the holiday season and enjoy the holiday season."
As apologies go, it wasn't one. Rose apologized for the "way it was perceived," which absolves him from any wrong doing and puts the blame for the entire debacle on the shoulders of those who "perceived" a race issue where the Mayor intended there to be none. Rose did not apologize for the initial attempt to hire Lepore, who was dismissed from his seasonal entertainment gig by Providence Mayor Jorge Elorza and Commissioner Steven Paré for escalating a minor incident, a young Dunkin' Donuts employee writing "#blacklivesmatter" on a police officers coffee cup, to a media circus and embarrassing the city.
Still, residents of East Providence, who packed the city council meeting to take a stand against Lepore, mostly seemed to accept Rose's apology, even as they raked him over the coals over his unwavering personal support for Lepore. Rose's recent statements, such as, "We don't have an issue in East Providence as far as race goes. There is no racial discrimination here," also came under fire.
Eleven people, mostly people of color, took to the microphone to speak out against Lepore's hiring, to declare unambiguously that East Providence does have "an issue… as far as race goes" and to call for an open dialog about the issue. The speaker's "Townie Pride" was evident in the way they declared their love the city even as they acknowledged the reality of systemic racism.
Seated in the room, supporting the city council's decision to not hire Lepore and the citizens whose voices made that decision possible, were leaders and activists from throughout Rhode Island. I'll have a piece later today detailing a conversation I had with Black Lives Matter activist Brother Gary Dantzler, but for now let's hear from those who spoke out publicly last night. (I apologize for any misspelling of people's names, please contact me with corrections and I'll get to them right away)
First up was James Waters, who kicked things off by saying, "The problem is he's got supporter's who've said some nasty things and he's said some really scary things that scare me as a resident of East Providence."
"We're not part of some association or whatever you want to call it," said Joseph Tavares, "We're just a bunch of concerned citizens and we're siting together having a conversation… We weren't going to be beating anybody on the head or yelling and screaming or anything like that, we were just standing around and holding signs that say, 'Hey, we're here. Recognize us. That's all we're talking about."
"Why are we even here?" asked Liv Delgado, "Why is this even a problem? I grew up in East Providence. We did fine without a dancing cop… With everything going on and all the tension in every state, we really don't need this. I guess I just expected more of you Tommy, I really did."
"Today is December 1st. Sixty years ago Rosa Parks made her stand," said Anna Moniz John, "and the quote I chose is 'You must never be fearful about what you are doing when it's right.'" At the carousel protest against the Dancing Cop, "We did what we had to do because it was the right thing to do."
"When I heard that the Dancing Cop was coming to our town to perform, I was just in disbelief," said Maryann Fonseca, one of the organizers of the Carousel protest, "I could not believe that our elected officials were going to hire this guy after the town of Providence had just fired him… It got me so upset… I couldn't believe… with all this racial tension going on across the country… that we would even entertain the idea of hiring this guy."
Fonseca went on to ask why the public could not be more involved in the process of hiring seasonal entertainment. "Maybe you should ask the people, 'hey, what are your interests'… Maybe we can use this opportunity have an open dialog…"
Lisa Scorpio is from Providence, though she lived in East Providence for twenty years.
"Mayor Rose, 'racism doesn't exist in East Providence.' You don't understand the reason for the protest? That's part of the problem," said Scorpio, before reading some of the uglier racist comments from Lepore's Facebook supporters. I won't transcribe them here. You can listen for yourself.
"That's why there's a problem," said Scorpio at the finish, "and you need to recognize it Mayor."
Scorpio got a standing ovation.
"You realized you made a mistake," Angie Lovegrove told the city council, "and you corrected it. That shows great leadership, and I wanted to applaud you for that." After the applause, Lovegrove added, "But I have to say I am disappointed that the Mayor didn't feel it was the right decision, but I'm hoping this is a learning experience for him…"
Elizabeth Rose Avant, is a former resident of East Providence, and her father still lives in the city. "I love this city," she began, but, "growing up in this city, I endured a lot. There was racial discrimination. There was significant disparity between blacks and whites in this community, and I did not feel that alleviated until I left… and when I come back… I know it still exists. "
Rose Avant continued, "I'm so disappointed, Mr. Mayor, that you would endorse and like some of these racist comments that are coming across on Facebook, supporting these individuals… I don't mean to attack you Mr. Mayor, but you have blinders on. For you to say that there's no racial bias, no racial discrimination here in the city of East Providence…  I encourage you to take this opportunity to reach out to the diverse community here."
Dr. Isadore Ramos is practically a legend in East Providence. "I heard comments at the carousel that I heard in the sixties when I used to be out in the street doing the same thing," said Ramos, "I heard comments like, 'They're intimidating people.' Who's intimidating people? … Let me tell you, those folks who were over there… were educators, professionals, they were like everybody else in this community, hard working people… They're just standing there talking…"
"The word 'matter' at the end of that sentence on that cup is what the issue has been," said Michelle Saunders, "and when you look up the word 'matter' it means 'of significance.'" Saunders wanted to know if Lepore, whose future son-in-law is a person of color, believe that his son-in-law matters. "Do his black friends that he spoke about matter? … Is it such a bad word to think about? Those lives, that are being affected, that are being brutalized, do they matter?"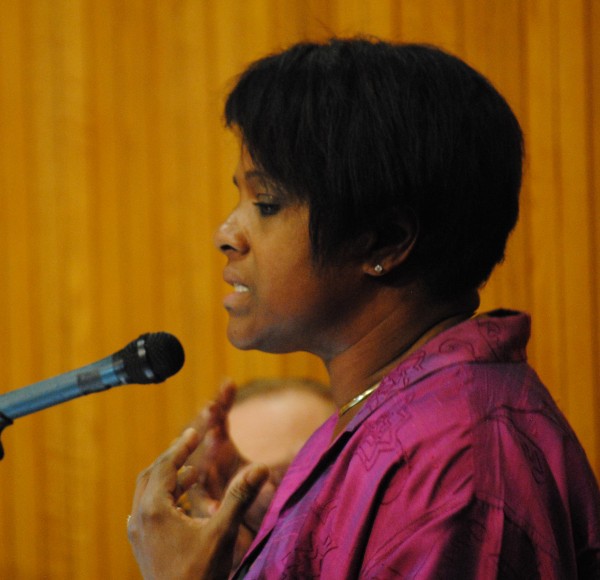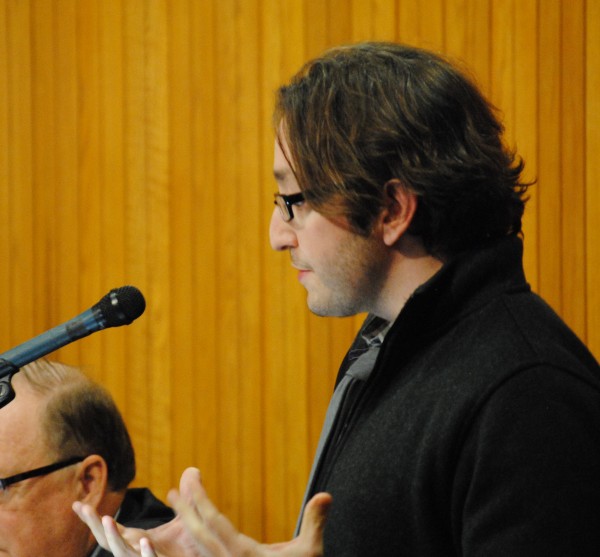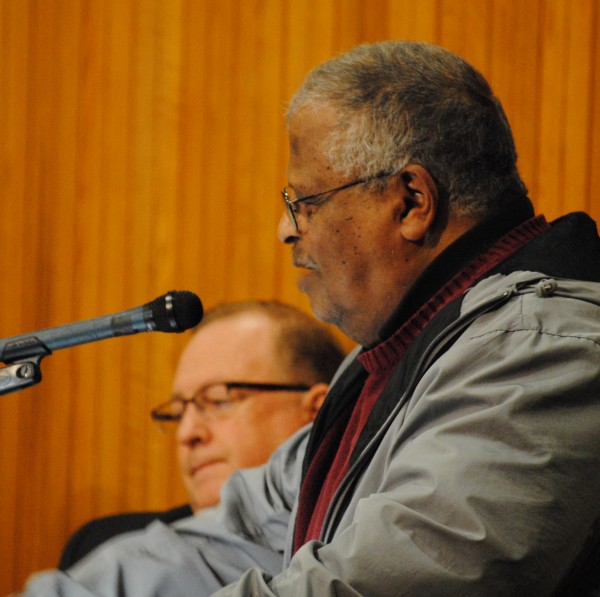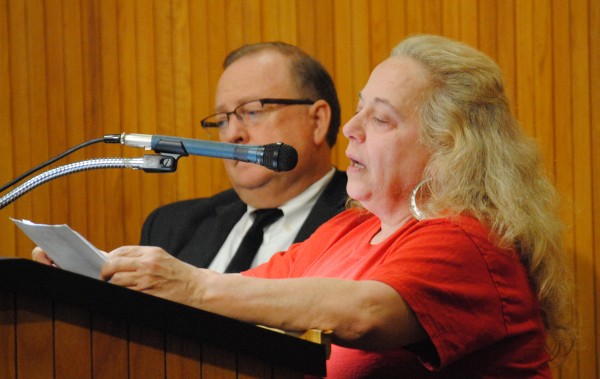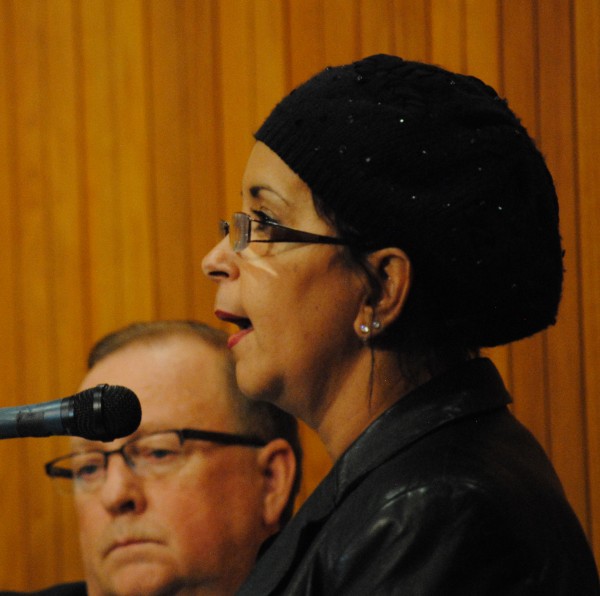 East Providence residents speak out against racism at city council meeting

,