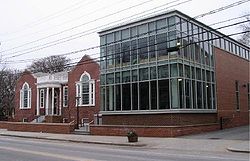 Residents on the East Side of Providence and patrons of the Rochambeau Public Library are shocked and outraged by the recent dismissal of librarian Tom O'Donnell from his job in February.
O'Donnell was reportedly fired for "insubordination" by Providence Community Libraries (PCL) executive director Laura Marlane. On February 25th over 40 supporters attended a PCL board meeting to ask that O'Donnell's dismissal be reconsidered. The board took comments but would not comment on the particulars of the case.
Since his dismissal support for O'Donnell has been growing. Those who know Tom O'Donnell have a hard time imagining a scenario that rises to the level of insubordination, but so far the PCL has been mum on details, citing privacy concerns. Letters of support have been coming in from book publishers, the Rhode Island Blood Bank, the Summit Neighborhood Association and countless private individuals. The office Mayor Taveras is logging calls on this issue (401-421-2489).
There is a Facebook support page set up where the story is being tracked and a grassroots effort to get O'Donnell reinstated has begun.
Tonight at 6PM there is going to be a meeting at Rochambeau in the Community Room to organize an ongoing picketing and informational campaign. According to the Facebook page, the picket is intended to be friendliest ever and to accomplish three goals: to alert more members of the community about Tom's firing; gather signatures on a petition and to talk with our neighbors about what Rochambeau Library means to the community and about what we the people want our Library to be.
East Siders Are Outraged Over Fired Librarian

,