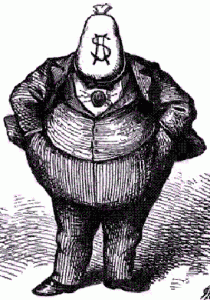 Tom Sgouros and Jason Becker are both well-respected critical thinkers in Rhode Island politics, though they don't often have opportunity to agree – for example, Sgouros has been critical of the new state education aid funding formula that Becker helped devise.
But it turns out the two have found common ground when it comes to the Center for Freedom and Prosperity. Both agree the science, as it were, associated with the right wing think tank's plan to eliminate the sales tax is built on rosy predictions and politically-charged assumptions.
Last week Sgouros wrote two posts on the right wing think tank's specious use of economics in their proposal to shrink state government by reducing the sales tax (here and here). This inspired Becker to take a closer look at the modeling used for its report. After doing so, he tweeted, among many others:
@JustinKatzRI @bobplain basically you can't model labor market outcomes in something that requires market clearing when market isn't clear

— Jason Becker (@jasonpbecker) February 2, 2014
and
@JustinKatzRI @bobplain here's what needs to be far more clear— this is about starve the beast politics not economy.

— Jason Becker (@jasonpbecker) February 2, 2014
Additionally, he tweeted these questions and concerns:
Becker also tweeted this report compiled by an University of Arizona economist (you can check her credentials here) disparaging the same economic modeling tool that the RI right wing think tank used to push its preferred policy here as the Goldwater Institute was using in Arizona.
In it, she wrote, "They should know that models can only be used for modest changes from existing economic conditions and that results from modest changes cannot be used to predict what would happen with large, never before seen, changes in policies."
Economists agree: Little reason to trust stink tank's economic modeling

,