The Environmental Justice League of Rhode Island (EJLRI) has created a position paper, "National Grid's Liquefied Natural Gas (LNG) Liquefaction Facility: Toxic Hazards in the Port Providence: Proposals for a Just Transition" that eviscerates National Grid's plans to build a new liquefaction facility for fracked LNG at Field's Point in South Providence. Over the next few days RI Future will be presenting EJLRI's paper in its entirety.
Introduction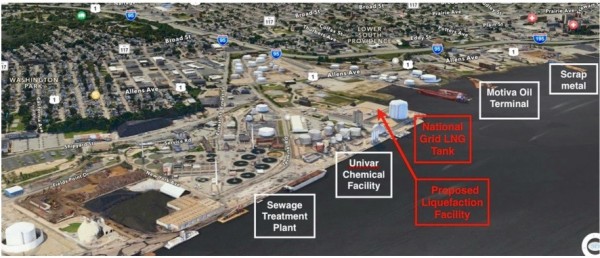 This document is a detailed response to the many reasons to oppose National Grid's proposal to build a $100 million Liquefied Natural Gas (LNG) production plant in the Port of Providence. This project (also known as the "Fields Point Liquefaction Facility") is costly and dangerous, and it is being planned for an area with many existing environmental justice concerns.
Beyond the obvious problem of having ratepayers (all of us) pay the bill for National Grid to benefit their own bottom line, there many specific concerns about the project. This report groups these concerns into the following major categories:
●  Flawed Proposal: Background info on National Grid's unnecessary project

●  Potential Disasters: dangerous facility in a high risk area

●  Environmental Racism: ongoing and underlying environmental justice issues

●  Climate Change: it causes climate change and is at risk from climate impacts

●  Public Health: health disparities and impacts on health care institutions

●  Economic Inequality: high cost project that will cause economic damage

●  Alternatives and Solutions: Strategies for Climate Justice & a Just Transition
The goal of this report is to make the case for organizations, businesses, residents, agencies, and public officials to join us in rejecting National Grid's proposal, and supporting the alternatives and solutions highlighted at the end of the report.
Background on National Grid's proposal
According to National Grid, their proposal to build a Liquefied Natural Gas production facility in South Providence in necessary, safe, clean, and will have no major negative impact. We disagree on all these counts, and explain why throughout the remainder of this report.
National Grid's case for the project is available on their website. National Grid needs to get approval from the Federal Energy Regulatory Commission (FERC), and all of the documents submitted by National Grid and comments from any other stakeholder are available on FERC's website under Docket # PF15­28 (Search at https://elibrary.ferc.gov/) . Since National Grid's perspective is detailed on websites, media stories taken directly from company press releases, and in hundreds of pages sent to FERC, we won't use much space here describing their project proposal.
The main points are:
●  Instead of delivering LNG to the storage facility in Providence via truck, National Grid wants to build a $100 million facility to produce LNG directly from a Spectra Energy pipeline that delivers gas from Marcellus Shale (Pennsylvania) to Providence.
●  LNG is produced by cooling natural gas (methane) to ­260 degrees, which reduces its volume by 600 times and puts it into liquid form
●  LNG is currently only needed in RI for up to 9 days each year
●  National Grid would then use LNG tanker trucks to export the LNG produced in 
Providence to other locations in Rhode Island and Massachusetts
●  The production facility would require a gas compressor station and an electrical cooling 
system that would use 15 Megawatts. (for reference, this is half of the 30 megawatts that Deepwater Wind will generate off the coast of Block Island)
There is no justified need for the project.
According to National Grid's own information, the existing LNG storage is only used up to 9 days each year, and is less than half of the gas used even on the coldest days with the highest demand. National Grid says the requests to increase the supply of LNG come from two storage customers: Narragansett Electric Company and Boston Gas Company. Both of these companies are subsidiaries of National Grid.
National Grid's "Public Participation Plan" is incredibly flawed.
In the document submitted to FERC, there are no actual community groups on their listing of Environmental, Community, and Neighborhood Stakeholders. The only two groups included, the South Providence Neighborhood Association and the Washington Park Neighborhood Association, don't actually exist. When questioned about this, National Grid's spokesperson David Graves responded that "The stakeholder list was first developed when both of these groups were active in the 
neighborhood" which is also false, since neither group has ever existed. David Graves also stated that National Grid "[has] not been successful in locating any other neighborhood groups in the area that have an organized board of directors or a published list of officers and, to my knowledge, we have not been contacted by any neighborhood groups asking to be included in the list of stakeholders." This is despite the fact that there are many thriving organizations in Providence, including three local groups that came to National Grid's Open House on August 13, 2015 to speak out against the project (PrYSM: Providence Student Youth Movement, PSU: Providence Student Union, and EJLRI: Environmental Justice League of Rhode Island).
There were numerous articles written about the protest at the open house. (See: here, here and here.)
National Grid's internal review and list of impacted stakeholders is flawed and limited in multiple ways. Most of their documents only refer to a 1⁄2 mile radius from the project, at some points only a 1⁄4 mile. Within this range are mostly other industrial projects and businesses, with only a few residential buildings considered. National Grid suppressed the addresses of who they have contacted, but stated they sent letters to affected landowners within 1⁄2 mile, which would only include industrial businesses and some landlords (not rental tenants). The required public Open House, held on August 13th 2015, was not well advertised. The time and date were printed once in the Providence Journal in July as part of the initial press release, but the time and date were not listed on National Grid's project website, which just listed the Open House as being "in August" and required emailing National Grid to ask for time and date.
At the time of the Open House, the website and all materials were only in English, despite the fact that Spanish is a predominant language in the community where the facility is being proposed. It appears that National Grid has not made any effort to actually engage the community. Those community members who did participate in the poorly promoted Open House were racially profiled and threatened by an excessive police presence and were ignored by National Grid in later correspondences with FERC and media inquiry.
In order to understand the impact of the project on the neighboring community, the analysis must use a radius of at least 1 mile from the proposed site. Cumulative impacts and evacuation plans for potential disasters must consider at least a 2 mile radius. Given the demographics of the community and the concentration of other industrial activity at the location, a full analysis of the cumulative impacts must be included, and issues such as public health, climate change, and environmental justice concerns need to be analyzed in depth.
Next: Potential Disasters: dangerous facility in a high risk area
Flawed Proposal: Background info on National Grid's liquefaction proposal

,