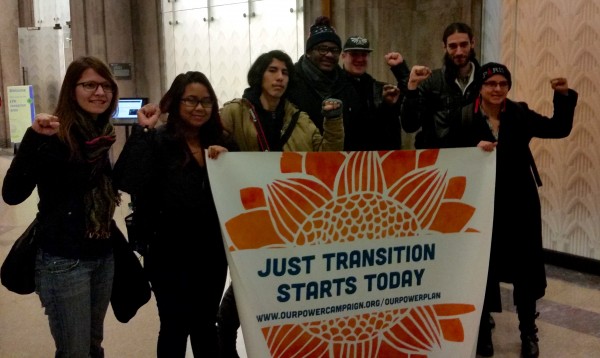 Environmental justice leaders from frontline communities hardest-hit by climate change and pollution converged on all 10 Environmental Protection Agency (EPA) regional office headquarters yesterday, to mark the end of the final public comment period for the Obama Administration's federal Clean Power Plan (CPP) to reduce power plant carbon emissions 32% by 2030.
Members of the Environmental Justice League of Rhode Island (EJLRI) lead the efforts in Region 1, meeting with Curt Spalding, Administrator for the EPA's New England Region, headquartered in Boston.
After their meeting with Spalding, I spoke to Dania Flores, EJLRI's Executive Director and the coordinator of the action, and Julian Rodríguez-Drix, an EJLRI board member, in the hallway of the EPA offices.
"We're part of the Climate Justice Alliance (CJA), a national alliance of climate justice grassroots groups. We decided that no one has engaged on the side of the people on the CPP plan which is a power generation plan on how the states are going to clean up their act," said Flores.
The CJA is a collaborative of over 35 community-based and movement support organizations uniting frontline communities to forge a scalable and socio-economically just transition away from unsustainable energy towards local living economies to address the root causes of climate change. They have developed an "environmental justice counterpoint to the Clean Power Plan" they call "Our Power Plan."
"One the first things in our plan is to engage with the EPA in each region to try to convince them that no one has actually meaningfully engaged the people," said Flores, "We're asking the EPA to comply with the law. They have the power to ask state governments to engage in meaningful engagement with frontline communities."
Under Obama's CPP, states have "until August to come up with a plan [reduce power plant carbon emissions] or they can ask for an extension," said Flores, "but we are asking the EPA to tell states that already have a plan, 'No, we don't believe that you have actually meaningfully engaged with [frontline] communities.'"
Flores says that states have until 2018 to present their plan and that the CJA wants the plans "to include exactly how states engaged in meaningful engagement [with frontline communities.]"
Rodríguez-Drix said, "Here in Region 1 the issue we see is that the transition away from coal and oil very much favors natural gas as a fuel source and we have a number of very strong reasons that we do not believe that's [a viable solution]."
The EJLRI's position is that "if there's energy infrastructure being built it has to be true renewables," not energy based on extraction and burning.
Right now, to satisfy a requirement to invest in weatherization and renewables, National Grid tacks on a surcharge to all energy customers, "but the fund is mostly used for solar panels in the suburbs," says Rodríguez-Drix. This means that poor communities are helping to subsidize the energy conversions of their richer neighbors.
"It benefits white homeowners, primarily," says Rodríguez-Drix, "We need to look at the whole system and the economics behind it so that the system benefits frontline communities, not just in terms of jobs installing solar panels, but in terms of generating energy that is owned by people of color."
This problem is exasperated by another issue primarily faced by poorer communities of color. "Slum lords aren't the ones paying [energy] bills and they don't care about [weatherization and energy efficiency]. [The communities we represent] have a lot of housing insecurity. We need incentives and investments that will put people of color to work installing and benefiting from increased weatherization and energy efficiency."
"I had the sense that Spalding was sympathetic to what we had to say," said Rodriguez-Drix.
"A lot of the conversation revolves around what the translation of certain words in the law is," said Flores, "What it means to them and what it means to us. When we talk about community engagement, what does it mean to be meaningful? We think we are going to be engaged and be part of the conversation. When they talk about engagement it means they are going to leaflet someplace and schedule two meetings.
"Real meaningful engagement is a lot more work than they have been doing."
Though this was a nationwide effort, not every EPA office allowed for this level of engagement from CJA aligned groups. "In some EPA offices, meetings like this did not occur," said Flores, "In some offices an activist would hand over written material to a secretary."
"EPA welcomes public input from all parties on the Clean Power Plan," said Spalding when asked for a comment, "We are pleased that stakeholders and communities are actively engaging in the public comment process because robust public participation leads to better outcomes for our health and environment.  It is important that environmental justice communities provide EPA with their unique perspective on proposals like the Clean Power Plan.
"EPA is committed to ensuring meaningful public involvement throughout implementation of the Clean Power Plan, so that all communities benefit equally from this vital step to address climate change and protect our health and environment. EPA will consider the input we have received before taking final action."
Flores, the EJLRI and the CJA see this contact as the beginning of a series of conversations. "We're going to up the ante as this develops. If the EPA doesn't push states to wait until 2018 to submit plans, after meaningfully engaging with frontline groups, we will be pushing towards a national gathering in the Summer," said Flores.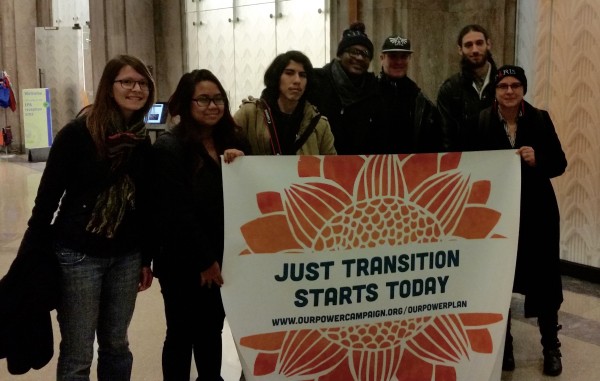 EJLRI confronts the EPA in Boston

,