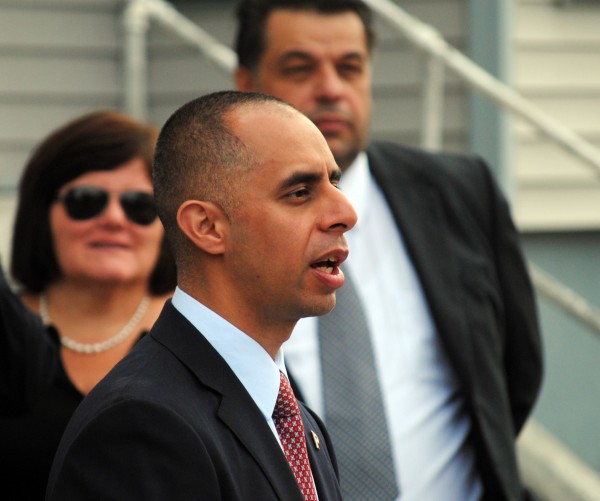 With 500 Rhode Island janitors in the final days of contract negotiations
before calling a strike
, Providence Mayor Jorge Elorza said he won't cross their picket line if a work stoppage occurs."
If this situation does lead to a strike by workers, I will not cross their picket line," Elorza said in a statement to RI Future. "
As Mayor, I am aware of the important role the workers of Local 32 BJ SEIU play for many businesses in Providence. While I remain optimistic that they will be able to negotiate an agreement, I am offering the support of my administration in whatever way we can help to resolve this matter. I hope that the employees' requests are taken seriously and that this matter can be resolved fairly for all involved before it resorts to a strike."
The more than 13,000 janitors of the 32BJ SEIU labor union decided on Saturday to give employer Maintenance Contractors Association New England one week – until their current contract expires – before they call for a work stoppage. Providence janitors currently make $13.15 an hour.
"We're making some progress but we still don't have a deal," said Eugenio Villasante, an organizer with 32BJ SEIU. "We hope to come to an agreement tomorrow but we don't have one yet. My hope is we can avoid a strike but as of today we don't have an agreement."
The janitors, some 500 of whom work in Rhode Island, are demanding an annual cost of living increase and better healthcare. In many cases, Villasante said, workers want more work. "Providence is very part time," he said.
If the janitors do go on strike, it could disrupt businesses and institutions across the Ocean State. According to Villasante, 32BJ SEIU janitors work at SEIU janitors in Rhode Island – Fidelity: 60+; TF Green: 32; CVS: 25; Bank of America Center (100 Westminster St., owned by Joe Paolino): 19; Bank of America: 10; One Financial Plaza building (downtown Providence): 16.
Elorza joins Boston Mayor Marty Walsh in pledging not to cross the 32BJ SEIU's picket line, if they go on strike.
A work stoppage could mean Elorza would not be able to visit Joe Paolino, the mayor's recent opposing interlocutor on poverty and panhandling in downtown Providence. Paolino's owns one of the buildings where janitors are threatening to strike and keeps his office there. 

Governor Gina Raimondo's staff has not responded to questions about whether she would honor the picket line.


Elorza won't cross 32BJ SEIU picket line

,