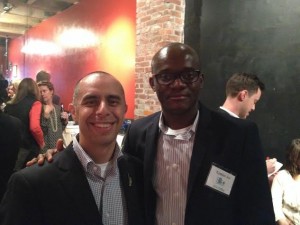 In November of 2005, my siblings and I left Ghana, and resettled as Liberian refugees in Providence, Rhode Island. We were embraced by the city with open arms and merry smiles, making us feel pleasantly at home when we desperately needed one. We felt the sense of community when we were received at TF Green Airport by staff from Dorcas International Institute of Rhode Island.
The transition was quite a challenge, but the people of the city stood firmly with us. We were guided through the process, and we were warmly embraced and supported in every step.
Over the years, Providence gradually became part of my life. I became quite involved with whatever was going on in the city – from politics to WaterFire events and more. It became home to me when I was searching for a place to call home. I believed in the city and its open arms to embrace immigrants and all peoples.
However, having lived in the city for nine years, I have learned so much about what holds the city back even with its vast diversity and vibrant immigrant communities. This is because the city leaders have ignored the residents and the ability of these communities to thrive.
The city of Providence finds itself in very difficult circumstances from which it has been struggling to emerge. A majority of the failed and failing schools in Rhode Island are found in Providence; the sense of pride in the city's residents has dwindled over the nine years I have lived in Providence; and above all, Providence is not providing enough in terms of development and opportunities for its young and talented population.
I have known Jorge Elorza for a while and I have come to understand and believe his vision for the city: One Providence. Jorge attended Providence Public Schools; he lived through the difficulties of struggling communities; he knows the city's enormous gap of inequality and lack of opportunity for many of the immigrant communities; and above all, Jorge is the epitome of leadership that the city desperately needs to unite and create opportunities for all its communities.
I believe in Providence and its ability for growth. I know Providence will rise again; I believe Providence can transform into an economic hub where all of its residents can participate and be proud of it again. Jorge's vision for Providence is to do just that. He understands the needs of the city; he has lived through its struggles, and he understands what it takes to rise up from the dust of life's struggles and despairs.
I stand with Jorge Elorza because I believe in Providence and I want to be proud of it again. No one else has better vision and ideas to transform, unite, and bring back the pride of Providence than Jorge Elorza.
I stand with him and I hope you will too.