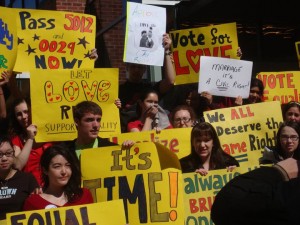 My friend Jon was a vibrant, kind and wonderful person. He loved music and dancing. He never ceased to make me laugh with silly jokes and goofy impressions of movie stars. I could always count on him to be there when I needed him, whether it was to help me move, or hold my hand when I was scared or sad.
But in 2008, I lost my dear friend when Jon took his own life.
I will never really know why Jon left us so early. But I do know that behind the laughter and the kindness Jon struggled to accept who he was. He struggled because our society told him who he was was wrong, immoral, sinful, and different.
Jon was gay.
For me, this is what the LGBTQ equality fight is all about. Homophobia – like racism, sexism, and classism – causes harm. Real and tangible emotional and physical harm. What's more, our government condones this discrimination in its utter failure to grant LGBTQ couples the dignity and respect that only marriage can afford.
This week the House Judiciary Committee will take testimony on three pieces of LGBTQ anti-discrimination policy: the Equal Access to Marriage Act, the Equal Access to Family Courts Act, and Equal Religious Protection Act. They are simple pieces of legislation aimed at one goal, ending LGBTQ bias in state law.
If years past are any indication, testimony this Wednesday at the State House will be impassioned, fraught with Biblical references, personal stories, and legal arguments. For me the argument is not merely about same sex marriage, access to divorce or religious protection, though these are certainly a critical steps forward.
For me it is about my friend Jon, who after belting out Tori Amos songs in my living would lose himself in despair so deep that he couldn't find his way out because we allow our government and our neighbors to discriminate against him and all LGBTQ Rhode Islanders.
It can "get better" but not if we sit on our heels and wait for it. We have to take action to make it better. Ask you legislators to stand on the side of tolerance, acceptance and love and fight for LGBTQ equality.
Originally posted on RightHer www.wfri.com/blog
Ending Discrimination Starts with Equal Protection of Law

,