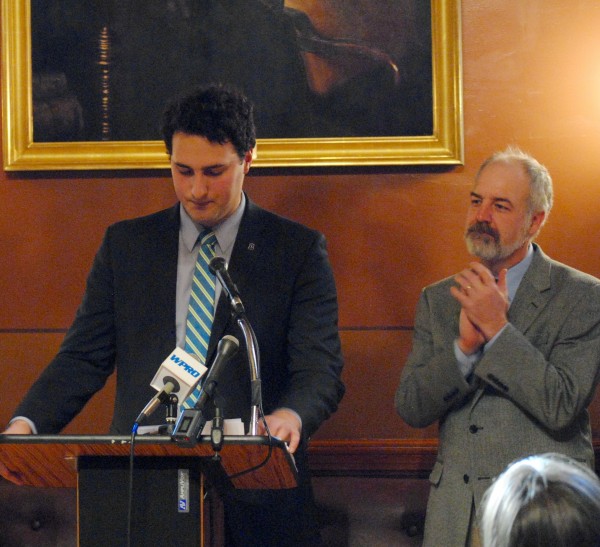 New carbon pricing legislation, backed by the Energize RI coalition, was introduced by Representative Aaron Regunberg (D District 4 Providence) in the House chamber on Tuesday. The legislation "is designed to provide incentives for renewable energy use, encourage the development of cleaner renewable energy projects, and create local jobs."
"The legislation would establish a new Clean Energy and Jobs Fund that will invest in renewables and efficiency and help Rhode Islanders lower their energy costs," said Energize RI in a press release, "The Fund will be financed by a fee on carbon pollution, beginning at $15 per ton of greenhouse gas emissions, paid by the companies that sell fossil fuels in the state."
Traditionally, user fees hit members of low income communities hardest, but Douglas Hall, Director of Economic and Fiscal Policy at the Economic Progress Institute, said that this bill addresses that problem head on and to good effect. "This bill does a few things that we at the Economic Progress Institute think are important. A portion of the carbon tax will be passed onto consumers, including lower-income families, in the form of higher prices. The Energize Rhode Island Act addresses this concern, by providing rebates to Rhode Island families and businesses, ensuring they come out ahead. We have seen the incidence analysis of this bill and are confident that lower income Rhode Islanders will be more than protected from additional costs."
Introducing the bill, Regunberg spoke about the economic, legal and moral responsibility Rhode Island has to take on such an "ambitious legislative proposal."
"Economically, this is where the world is moving… Rhode Island can either be a follower, and get the least economic benefit from these trends, or we can be a leader for this country.
"Legally, in 2014 we passed the Resilient Rhode Island Act, which obligated our state to reach certain emission reduction goals. Right now we are not on track to reach those goals…
"And morally, we have a responsibility to Rhode Island's young people, to my generation and to the generations that come after mine… by failing to enact significant climate legislation, we are condemning the babies who are born today at Women and Infants to a dangerous future."
Small business owner Joseph Fernandes saw the issue from an economic point of view. "If you were to attempt to open a business today in many parts of our state, you would find yourself facing a whole new set of barriers that didn't exist for my parents. You would be faced with the burden of having to pay for costly flood insurance premiums that will only grow higher. Climate change means your business is always vulnerable to an extreme weather event that could permanently close you down."
The Energize RI Coalition sees their efforts as complementary to other state programs dealing with climate and energy. Ken Filarski of Filarski Architecture said the the clean energy sector of our economy is one of the fastest growing in the state. "This sector is already growing at a rate that is stronger than the rest of Rhode Island's economy, supporting over 10,000 jobs and adding 1,600 more by the end of the year. Passing this legislation means more funds to install solar panels, insulate houses, and implement other energy efficiency measures. It means more Rhode Islanders working in a field that has proven itself to be both profitable and sustainable."
More details from the press release:
"An economic impact study by Regional Economic Models, Inc. (REMI) estimated that the legislation would create a net growth of 1,000 to 2,000 new jobs in just the first two years of the program. It also noted that Rhode Island spends more than $3.1 billion annually on fossil fuels, nearly all of which flows out of the state, since Rhode Island does not produce these fuels itself. Incentivizing Rhode Islanders to switch from out-of-state fossil fuel sources to local renewables and efficiency will help keep more of that money in Rhode Island and protect the state from the volatile market swings that often affect these fuel prices.
"The legislation establishes that 25 percent of the fees collected for the Clean Energy and Jobs Fund would be used for climate resilience, energy efficiency, energy conservation, and renewable energy programs, to be administered by the state infrastructure bank created through legislation last year. Thirty percent would be used to provide direct dividends to employers in the state per full-time employee, and 40 percent would be used to provide direct dividends for every single state resident. Employees and residents would receive their funds via tax credits, or direct checks for those not required to file taxes.
"According to the coalition's research based on average energy use data, the program will not increase energy costs for the average Rhode Island family and businesses In fact, by paving the way for a transition to an energy independent economy, the policy will reduce costs for all Rhode Islanders in the long term. In the short term, the average Rhode Island household receives a net gain from the rebate. Even higher-income households will have an average net cost of only $25 per year toward the Clean Energy and Jobs Fund."
Energize RI is a coalition of advocates from business, environmental and faith communities. Speaking from a faith perspective was Beth Miham, a member of Channing Memorial Church in Newport and a former board member of Interfaith Power and Light for a number of years.
Energize RI brings carbon pricing bill to the House

,