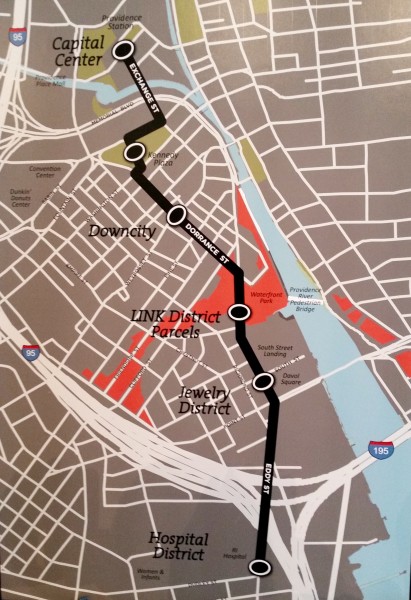 Providence Mayor Jorge Elorza today announced plans for a 1.4 mile "Enhanced Transit Corridor" in downtown Providence.  The service will "run along Exchange, Dorrance and Eddy streets, providing quick and reliable transportation between Kennedy Plaza, two new intermodal transit hubs planned for the areas around the Providence Station and Hospital District, and key office, retail, entertainment and institutional destinations both within and beyond the Downtown area." (See map)
The project is being paid for with $13 million in TIGER VI funds, secured with the help of the congressional delegation. The total cost of the project will be $17 million, with the city and state kicking in the rest.
Elorza said that the increased cost of parking in Providence is creating a demand for dependable public transportation. The new route is projected to have buses running every five minutes during peak hours. A series of sheltered bus stops, similar to the one pictured below, from Cleveland, will provide WiFi and bike share service as well as other amenities.
Governor Gina Raimondo said that when she talks to businesses, they are seeking young talent, and that young people want public transportation. This is born out by a pair of statistics mentioned by Congressperson David Cicilline, who said that "4 out of 5 young people want to live without a car" and that "two-thirds say access to public transit is a key factor in deciding where to live."
Don Rhodes, of the RIPTA Riders Alliance, told me that he is very pleased with the new plan, and that he and his group has been advocating for an enhanced bus route instead of a streetcar for years.
The new plan is the result of a collaboration between RIPTA, the RI Department of Transportation (RIDOT) and the City of Providence.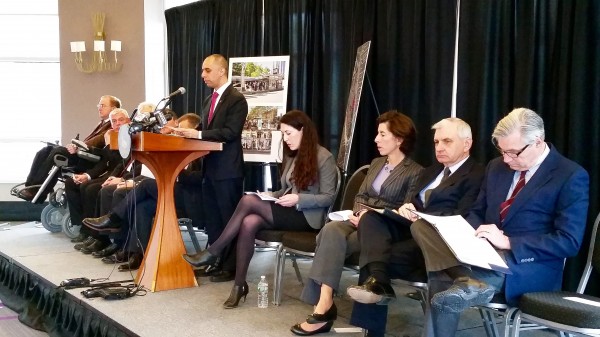 New high frequency RIPTA line to link key areas of downtown Providence

,