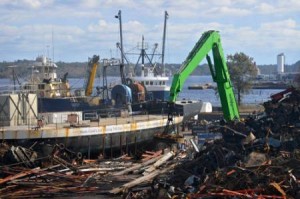 Question:  What do  junkyards, hazardous waste processors, hospitals, and Environmental Justice areas have in common?
Answer:  They're all located adjacent one another in Providence.
Projo reports that the DEM has ordered waterfront junkyards, Sims Metal Management and Rhode Island Recycled Metals, to cease operations for "[failing] to obtain the necessary approval for their scrap metal businesses" and for "violation of storm water regulations." PBN has more details on the violations:
DEM accused Rhode Island Recycled Metals, which has been a repeated target of environmental group Save The Bay this year, of not receiving the proper permits to salvage automobiles or dismantle a variety of marine vessels at its waterfront site at 434 Allens Ave. [RC – see "Save the Bay: 'Grave Concerns' Over Polluting Waterfront Junkyard"]

The charges accuse Rhode Island Recycled Metals of failing to install required stormwater runoff controls and of having oil leaks staining the ground of their property.

The violation comes with a $46,250 fine and orders Rhode Island Recycled Metals to stop all car crushing, stop receiving new scrap metal, new derelict vessels or automobiles and to install pollution containment boom in the river around the property.

The company is ordered to remove all scrap metal from its property within 60 days.

Sims Metal Management, which purchased Promet Marine Services last October, is accused by DEM of failing to transfer the old business' stormwater permit and apply for a new permit to expand operations into scrap metal recycling.

The facility at 242 Allens Ave. is now Sims principal New England scrap metal export terminal.

The DEM violation notice, which carries a $25,000 fine, orders Sims to stop receiving any new scrap metal at the site or accept new ship repair jobs, and to remove any scrap metal from the facility within 60 days.
This after news last month that Polluting Waterfront member, PSC Environmental Services, has been fined by the EPA for lax environmental controls at their facility along Allens Avenue.  The EPA press release reported:
Northland Environmental and PSC Environmental Services (operator and owner of the facility, respectively) violated state and federal hazardous waste laws, as well as their state issued permit to operate a commercial hazardous waste and non-hazardous waste treatment, storage and transfer facility located on Allens Avenue in Providence.

The facility is located in a densely populated Environmental Justice (EJ) area of Providence.  EPA considers it an EJ area due to the high proportion of minority and low-income population, which historically has had higher exposure to pollutants than other segments of the population.
The EPA found that "many incompatible hazardous wastes were stored next to one another without adequate means of separation or protection, potentially resulting in fires or explosions" [my emphasis]. Believe it or not, the Taveras administration actually ran on a promise to give these "existing industrial businesses the confidence needed to expand!" Lipstick on pig, indeed.
Yes, what shows our commitment to Environmental Justice more than locating hazardous waste processing firms and scrap heaps in the neighborhood? Can we honestly say this urban neighborhood doesn't "bear a disproportionate share of the negative environmental consequences resulting from industrial, municipal, and commercial operations?" Can we say without a nod and a wink that "affected community residents have an appropriate opportunity to participate in decisions about a proposed activity that will affect their environment and/or health?"
Environmental Justice on the Polluting Waterfront

,