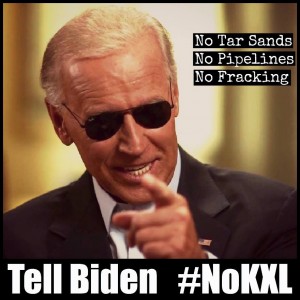 Note:  the rally on Thursday is called off. President Biden is tending to his son Beau, and will not make it to RI. Send your thoughts his way.

In the middle of August it can be hard to recall February, but it wasn't all that long ago that busloads of Rhode Islanders headed down to be part of the historic "Forward On Climate" rally that drew between 35-50,000 people to Washington, DC to demand President Obama stop Transcanada's Keystone XL Pipeline. Since that joyous frigid day, environmental activists have relentlessly dogged the steps of the President and Vice President wherever they have traveled, conducting rallies to drive home the point, Say No To The Pipeline!
For its part, the Administration continues to play the decision on the project close to its vest. President Obama said in his June Climate speech that he would only approve Keystone "if this project doesn't significantly exacerbate the problem of carbon pollution." Obama clearly wants to leave a strong environmental legacy and his credibility hinges on this decision. Meanwhile, Biden told a Sierra Club volunteer that he agreed with those who oppose the pipeline. These are encouraging signs, especially because a very strong case will be made that the Keystone XL would lead to massive increases in carbon pollution.
On the other hand, Obama already approved the southern leg of the pipeline. More importantly, there is a lot of money on the other side of  the issue, including that of the profiteering Koch brothers whose Texas refineries would be processing the toxic tar sands oil coming out of Canada to sell on the global oil market.
It is unclear which side is winning. Millions of people have spoken out against the pipeline, but they might all be drowned out by the billions of the fossil fuel industry. President Obama has postponed the decision on the pipeline multiple times, and it looks like it may well get pushed into 2014. Our best hope is in keeping the pressure on. While unfortunately we will not be able to give Vice President Biden the #noKXL message in person as we had planned for, you can still take action here: http://www.sierraclub.org/dirtyfuels/tar-sands/virtual-chain/.