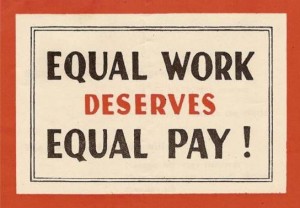 Another day, another dollar. Well, make that 81 cents if you are a woman working full time in Rhode Island.
Today is Equal Pay Day, a day that symbolizes how many days into 2014 women need to work in order to make what men made in 2013. Of course, that's for women as a whole – if you are African American you will need to work until May 11th, and if you are Hispanic/Latina you will have to work until June 17th.
There are few statistics out there that have been more maligned, confused, distorted, or dismissed as the statistics on equal pay. Some imply that the wage gap can be completely explained by sex discrimination, while others assert that the wage gap is caused exclusively by women's choices. It seems that the greatest barrier to fixing the wage gap is that we can't even agree on the problem.
And, it really matters. Women who work full time in Rhode Island are taking in, on average, $9,901 less per year than their male counterparts – meaning less money for food, housing, gas, and other discretionary expenses. Which is a really big problem given that families have come to rely on women's wages to make ends meet.
This year, the American Association of University Women released a report entitled "The Simple Truth" in an attempt to shed some light on the oft-misunderstood statistics. The message is clear: yes, the wage gap does, in part, reflect men's and women's life choices, BUT not all of the gap can be explained away by this. In fact, even after accounting for college major, occupation, economic sector, hours worked, months unemployed since graduation, GPA, type of undergraduate institution, institution selectivity, age, geographical region and marital status, reports show persistent, unexplained gaps between men and women's wages of between 7% and 12%.
Complex problems don't often allow for simple solutions, and the wage gap is no exception. But the fact that this gap is complex is no excuse for not actively working to close it. And there are plenty of opportunities to go around, for individuals, employers, and government alike.
Individuals can work to shift a culture that historically undervalues occupations that have been traditionally held by women. And, women can make different career choices: whether you believe women freely choose lower paid occupations or are socialized into choosing "helping" professions over more lucrative ones, the fact is that getting ourselves into more nontraditional jobs will help to close the wage gap. And, yes, developing stronger negotiating skills can help women secure higher wages, something that is so critical early on in one's career as those wages will become the basis for a lifetime of earnings. We can also work toward a more equitable distribution of child care and household responsibilities within the family so that men and women have equal opportunities to succeed in the workplace.
Employers can actively pursue workplace policies of fairness, openness and transparency when it comes to employee jobs and wages. They can hire more women in nontraditional jobs. They can provide on-site child care. They can recognize that some jobs have historically been undervalued because those jobs have traditionally been held by women, and can move to a more equitable pay system based on qualifications, years of experience, and job duties as a way to more equitably value the contributions of all employees. Pay equity audits are an important tool that can be used to monitor and address any gender pay differences. And, by the way, all of this can be good for the bottom line: studies have shown that workers who believe that they are paid fairly have higher morale and are more likely to contribute their best efforts to the job.
Government has an important role to play in creating a level playing field. The Equal Pay Act of 1963 was an important first step in ensuring equal pay for equal work. Title VII of the Civil Rights Act bars all discrimination in employment, including in hiring, firing, promotion, and wages on the basis of race, color, religion, sex or national origin. And, the Lilly Ledbetter Fair Pay Act of 2009 provides some additional protections against discrimination.
But there is still more to do. The Paycheck Fairness Act, currently pending in Congress, would close loopholes, strengthening incentives to prevent pay discrimination, and prohibiting retaliation against workers who inquire about employers' wage practices or disclose their own wages. And, government can do more to provide child care supports to working families. Finally, government at both the federal and state level can use their status as employers to ensure pay equity in public sector employment, and can use the leverage of government contracts to ensure fairness and equity for those businesses and individuals who perform contract work with the government.
It's time to stop debating the wage gap. While the gap can't be completely chalked up to overt sex discrimination, neither can it be chalked up to women's choices. The statistical fact is that the wage gap exists. The question is, what are we going to do about it?
Carolyn Mark is president of the Rhode Island Chapter of the National Organization for Women. To learn more, visit www.rinow.org.