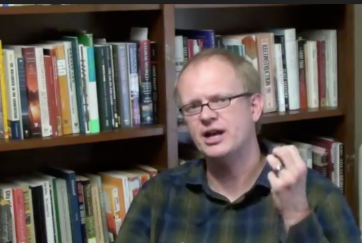 Bernie Sanders would only be a slightly more progressive president than Hillary Clinton, said Erik Loomis when I asked him which candidate he was supporting in 2016.
"I don't think it matters very much," said the URI history professor who will be discussing his new book Out of Sight next week – Wednesday, Nov. 18 from 5:30 to 7:30 at AS220. Earlier this week, RI Future interviewed Loomis about his book, and the TPP.
"This is out of no love for Hillary Clinton that I'm saying this," Loomis explained. "My guess is that a Bernie Sanders presidency for progressives is about 10 percent better than a Hillary Clinton presidency because of the limitations and structure of American politics."
Though he said a Sanders presidency would be more likely to oppose a trade deal like TPP than Clinton, he said the two Democratic candidates will likely be facing the same conservative Congress and courts.
"We have to stop thinking strictly through presidential politics as the answer," he explained. "We're never going to elect the right person. That's not how power works. That's not how the world changes. It's not how it's ever changed. It changes from below. It has to come through from people organizing on the ground."
He said it was was more important to focus on defeating the Republican Party than which Democrat to nominate. "Where the rubber meets the road in 2015 is defeating the Republican Party who actually wants to literally bring us back to the era of the 1890's and we don't want that," he said.