Erik Loomis is on the front lines in the fight against fascism. While many of us fear what will happen during Donald Trump's presidency, the University of Rhode Island history professor is already living it. He's taking direct hits in the alt right's assault on the free speech of the progressive left.
Since Donald Trump won the election, Loomis has twice been targeted by Trump-supporting organizations with efforts to stifle speech and possibly chill criticism of the president-elect.
Breitbart

This week, Breitbart accused Loomis of mourning the death of Fidel Castro and praising the US-defying Cuban dictator.
Loomis brushed off what he called an "attempt to intimidate" him.
My message to @BreitbartNews and its attempt to intimidate me.

LOL fascists.

Love, Erik. https://t.co/6cnldJVOzV

— Erik Loomis (@ErikLoomis) November 29, 2016
The article said "Professors at universities across the United States are mourning the death of tyrant Fidel Castro" but it cited only a one Loomis blog post and a Facebook post of a professor from Drew University in New Jersey (that link doesn't appear to work).
The author inaccurately portrays Loomis' post as praise for the Cuban dictator. The 1,900-word analysis of Castro's Cuba titled "Castro: It's Complicated!" is a well-balanced look at the US-defying dictator's embrace of fascist rule and social justice ideals.
"Fidel Castro was a tremendously complex person who attempted to rebuild a society around ideas of justice while also refusing to allow democratic institutions to form. He sought to resist U.S. imperialism while openly hoping his island would be devastated by a nuclear attack. He brought outstanding medical care and education to his own people and the poor around the world while limiting the ability of educated people to use their skills at home. He was on the front lines of fighting the oppression of people of color by U.S. allies around the world while also supporting some pretty awful people around the world himself."
Breitbart is known for tailoring information to fit into divisive narratives favored by factions of Trump's white working class base. The site often casts liberals as being un-American and often promotes racist and xenophobic viewpoints. Senior Trump adviser Steve Bannon is the former owner of Breitbart who transformed the site into the darling of the alt right, White Nationalists and other racists and xenophobes across the country.
Loomis called Breitbart the "official publication of the incoming president of the United States." He wrote about how his post made its way through the "fascist networks" to Fox News' Tucker Carlson.
Professor Watchlist
Only one week earlier, Loomis was singled out by another organization run by a prominent Trump supporter. Professor Watchlist included Loomis in its directory, just launched on November 21.
Loomis was one of 197 professors included on the initial list, though the site encourages the public to submit additional names. The stated mission "is to expose and document college professors who discriminate against conservative students and advance leftist propaganda in the classroom."
It was started by Turning Point USA, a 501c3 led by Trump supporter Charlie Kirk, who last week said he was at Trump Tower. New York Magazine has more on Kirk and Turning Point USA. Kirk, a 22-year-old who didn't himself attend college, spoke at the Republican National Convention this summer.
Loomis was included because "In 2012 Loomis stated, 'Fuck the NRA' without a hint of subtlety. Loomis, upset in 2012 over the Sandy Hook shootings, also said the NRA is a terrorist organization. He tweeted he wants NRA CEO 'Wayne LaPierre's head on a stick.'"
Professor Watchlist has been criticized for existing to silence free speech of a specific point of view. A headline in yesterday's New York Times proclaims "Professor Watchlist Is Seen as Threat to Academic Freedom". One college professor cited in the article feared "the site could be used to harass professors or sabotage them from gaining jobs or promotions," according to The Times report.
Trade deals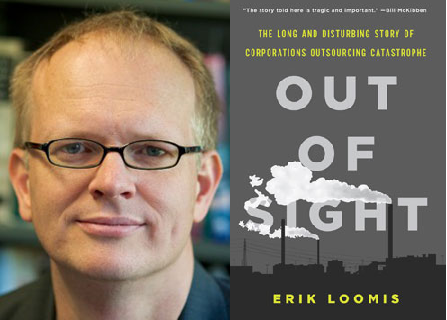 While Trump supporters don't seem to appreciate Loomis' political views, his work speaks directly to an issue Trump said is important to his administration. Loomis' most recent book is called "Out of Sight" and takes a close look at trade deals.
Trump has said and Loomis believes the TPP is not in the best interest of the American people. Loomis told RI Future in November, 2015 that trade deals with other nations should be used to benefit American working class people rather than multinational corporations.
"Erik Loomis is a Rhode Island treasure," wrote Phil Eil of Loomis last year, describing him as "Rhody's own fire-spitting, NRA-fighting, grave-visiting, environmental/labor history guru."
Loomis writes for the Lawyers, Guns and Money blog, where he offers political analysis of both the right and the left.
In a tweet last night, Loomis teased Breitbart and added, "I will not be intimidated."
Yay? Seriously though, in Breitbart land "complicated" = "member of the Khmer Rouge." But I will not be intimidated. https://t.co/UFbYC5RPmK

— Erik Loomis (@ErikLoomis) November 29, 2016
Trump's alt-right 'fascist networks' are targeting URI professor Erik Loomis

,