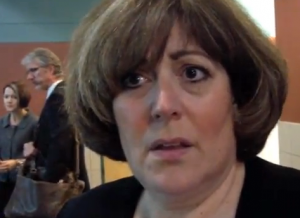 Susan Lusi, the superintendent of the Providence school department, has come out against the NECAP graduation requirement, and Eva Marie Mancuso, the chair of the Board of Education, has accused her of "grandstanding" by presenting her concerns to the legislature rather than to her board.
Ha ha. This is funny because over the past year, Mancuso has maneuvered the Board and its agenda to shut down any possibility of real discussion of state testing policy. If Susan Lusi has chosen to use a different forum to make her concerns known, Mancuso might be the only person in Rhode Island who wonders why.
As I've written in the past, I have completely failed to find a forum in this state even for simply presenting a technical critique of the use of NECAP tests to anyone in authority. What's remarkable about this is that a technical critique is more than just a statement of opinion.  It's an opinion about how the future will unfold. What I observe is a natural consequence of arithmetic, statistics, and the choices of the test designers. The results are impervious to the attention they get. Whether anyone listens to the critique or not is irrelevant to whether or not its effects will be felt. To date, I have not heard or seen a single response to my critique that did not rely on purposefully misconstruing it, and it has been endorsed by people who know a lot more about testing than I do.
If my critique is correct, then lots of kids will flunk the NECAP test, pretty much no matter what. I don't have to be heard at a Board of Education meeting for this to come true. If my critique is correct, then RIDE is wasting a lot of money forcing school districts to undermine the test they have spent so much money designing and promoting.  I don't have to be on the radio for this to come true. If my critique is correct, performance on the NECAP test will not be well correlated with performance in college or a job. I don't have to be called by a reporter for a response to RIDE's many misstatements for this to come true.

These are serious consequences, with dollar signs attached to them. Not to mention thousands of damaged lives. Unfortunately, they are no longer just future possibilities. At this point, six hundred Providence students, along with over a thousand of their peers around the state, are at risk of not graduating from high school. To some extent their school systems have failed those kids, and to a large extent RIDE has failed them.
Policy makers have a responsibility to consider the consequences of their actions. Simply ignoring the possibility of bad consequences — precisely what has happened — is utterly irresponsible. Eva Marie Mancuso and Education Commissioner Deborah Gist, by doing everything they can to shut down debate over their policy, have demonstrated that they simply do not care about the consequences of their decisions. They claim to care about the students for which they are responsible, but belie those empty claims with their actions.
The rumors I hear are that Mancuso yearns to be appointed to the bench. Just the sort of judge we want: the kind who refuses to hear evidence. Gist wears her career ambitions on her sleeve, and they obviously extend far beyond our little state. Presumably advances in test scores will help her career after her contract here expires, and get her a lucrative book deal about how she turned around a little state. What are the lives and futures of a couple thousand kids when weighed against that kind of success and fame?
It is indeed true that having high school graduates who cannot do math is bad for our state. Is it not also true that having education policy makers who do not care about math is equally bad for our state?
Eva Mancuso stifles debate, wonders why debate went elsewhere

,