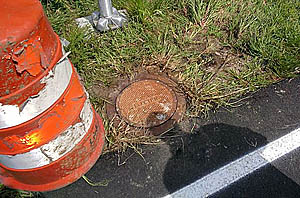 A ten cent user fee on the new Sakonnet River Bridge has seemingly inspired political sabotage as authorities say an arsonist targeted the tolls Saturday morning.
The alleged act of extremism hopefully says less about how opposed community members are about paying a dime to cross the new bridge than about the consequences – good, bad or indifferent and intended or not – of radical rhetoric in political debate.
"Rhode Island's government is now engendering such hopelessness and distrust of the system that people are resorting to criminal activity to push back against it," writes Justin Katz, in response, this morning. Or someone got a little over-inspired by the grandiose tactics implemented by a vocal minority of influential conservatives who have exploited this issue to further their ideological assault on Rhode Island.
In either case, the right should be cautious of crying wolf. Paying a dime to be able to drive over Narragansett Bay is a flimsy reason to declare a revolution.