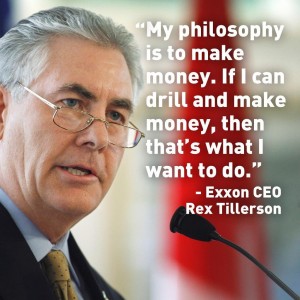 Chickens coming home to roost?  EXXON CEO Rex Tillerson, trying to hide behind his Bar RR Ranches name, is suing a fracking company in his backyard. He is joined by anti-environmental ex-Republican majority leader Dick Armey.
Seems the two tycoons don't like the odd looking water tower- which provides the huge volume of water needed for fracking-  blocking their view of nothing in particular and say the trucks are a nuisance.
Though the suit "cites the side effects of fracking" in the complaint, a lawyer representing the Exxon CEO said he hadn't complained about such disturbances.
Rex's "philosophy" is a matter of public record- "if I can drill and make money, that's what I do."
This is essentially the argument the fracking company that he is suing is making; so part of the case hinges on whether Tillerson, who has made much of his money off Fracking, can sue to have an inconvenient ordinance enforced, when EXXON is constantly arguing against ORDINANCE ENFORCEMENT.
Seems like Rex wants one set of laws just for himself.
————-
from Wall Street Journal Morning Addition today, by Danny Gilbert

BARTONVILLE, Texas—One evening last November, a tall, white-haired man turned up at a Town Council meeting to protest construction of a water tower near his home in this wealthy community outside Dallas.

The man was Rex Tillerson , chairman and chief executive of Exxon Mobil.

He and his neighbors had filed suit to block the tower, saying it is illegal and would create "a noise nuisance and traffic hazards," in part because it would provide water for use in hydraulic fracturing. Fracking, which requires heavy trucks to haul and pump massive amounts of water, unlocks oil and gas from dense rock and has helped touch off a surge in U.S. energy output.

It also is a core part of Exxon's business.

While the lawsuit Mr. Tillerson joined cites the side effects of fracking, a lawyer representing the Exxon CEO said he hadn't complained about such disturbances. "I have other clients who were concerned about the potential for noise and traffic problems, but he's never expressed that to me or anyone else," said Michael Whitten , who runs a small law practice in Denton, Texas. Mr. Whitten said Mr. Tillerson's primary concern is that his property value would be harmed.

An Exxon spokesman said Mr. Tillerson declined to comment. The company "has no involvement in the legal matter" and its directors weren't told of Mr. Tillerson's participation, the spokesman said.

The dispute over the 160-foot water tower goes beyond possible nuisances related to fracking. Among the issues raised: whether a water utility has to obey local zoning ordinances and what are the rights of residents who relied on such laws in making multi-million-dollar property investments. The latter point was the focus of Mr. Tillerson's comments at the November council meeting.

The tower would be almost 15 stories tall, adjacent to the 83-acre horse ranch Mr. Tillerson and his wife own and a short distance from their 18-acre homestead. Mr. Tillerson sat for a three-hour deposition in the lawsuit last May, attended an all-day mediation session in September and has spoken out against the tower during at least two Town Council meetings, according to public records and people involved with the case.

The Exxon chief isn't the most vocal or well-known opponent of the tower. He and his wife are suing under the name of their horse ranch, Bar RR Ranches LLC, along with three other couples. The lead plaintiffs are former U.S. House Majority Leader Dick Armey and his wife, who have become fixtures at Town Council meetings.

Mr. Whitten, who also represents the Armeys, said they declined to comment.
EXXON CEO joins in an anti-fracking lawsuit

,