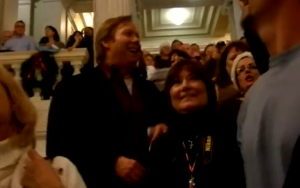 John DePetro is spreading holiday lies again this year.
Yesterday he falsely claimed a "flash mob" he organized last year did not interrupt the Children's Choir when they began singing "O' Christmas Tree" to drown out the kids who were singing "Have a Holly, Jolly Christmas."
Video, taken at the scene, proves otherwise.
Also keep in mind that DePetro is accused of propositioning a co-worker who later sued him for sexual harassment on the way to this rally to defend Christmas.
DePetro also maintains that Gov. Carcieri always maintained it to be a Christmas Tree, which is another distortion of reality. Politifact covered this already. DePetro, even after the Poltifact story, went on Fox News and repeated the falsehood. This morning, the Providence Journal even runs a picture of a holiday ornament Carcieri had made that does not use the word Christmas.
It's okay for WPRO to broadcast his unpopular and often disturbing opinions if they feel that is in the best interest of their business. It is not okay for the federally-licensed radio station to sanction obvious lies over the public airwaves.
Meanwhile, his national counterpart Bill O'Reilly is now on the holiday tree beat too. Last night, he too was misrepresenting the situation in Rhode Island.
What's happening here is we have a governor who is trying to be inclusive, and DePetro and O'Reilly don't like that.
Fact Checking DePetro

,