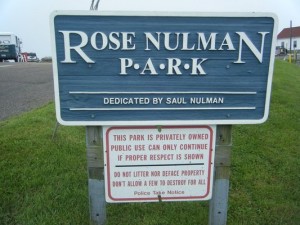 Government regulation can seem like such a drag to comply with. Until the unlicensed surveyor you hired accidentally builds your new multimillion dollar house in the neighbor's yard.
An ounce of prevention, as they say…
State law says only a licensed surveyor can plot a property line. But the owner of a $1.8 million beachfront home in Pt. Judith somehow built the 2,400-square-foot, 3-story mcmansion without doing an official survey.
The error was discovered and the next door neighbor isn't interested in losing the land. The abutting property is the Rose Nulman Park, it has a deed restriction that it would owe a $1.5 million penalty if it ever transfers any land.
So the homeowner will likely have to demolish – or pay to move – his new beach house.
South County surveyor Dave Hilbern (best known in these parts for surfing the "Perfect Storm" waves in Puerto Rico) says the town of Narragansett may have been able to prevent this situation.
"Had the town officials been aware of the law and willing to apply it, they could have stopped this plan at the preliminary stage," wrote Hilbern. "Plans depicting … property lines must carry a surveyor's stamp. No one is a one stop professional, and so others approaching this task may be merely guessing or estimating the true location of a property line."
According to the Providence Journal "the siting of the house was done incorrectly and that the lot had never been surveyed." Savvy prospective buyers had a survey done in 2011, and learned the house was built on the Rose Nulman property.
Narragansett Building Inspector Tony Santilli and Town Manager Pam Nolan could not immediately be reached for comment.
Here's Hilbern's full letter:
The Providence Journal's "Should $1.8-million house built on park land in Narragansett be demolished or moved?" touches on an unfortunate subject. But had the town officials been aware of the law and willing to apply it, they could have stopped this plan at the preliminary stage.

R.I. General Laws 5.81 through 5.8.1.19 clearly state that only licensed land surveyors are allowed to depict property lines on a plan. Plans depicting existing or proposed structures, wetlands, topography, and which reference their location in relation to property lines must carry a surveyor's stamp. The underlying rationale is that Land Surveyors are the sole professionals possessing the legal expertise and mathematical training to depict a property line on plans. No one is a one stop professional, and so others approaching this task may be merely guessing or estimating the true location of a property line.

For years I have worked in close collaboration with architects, engineers, and related professionals. While these people are often experts in their professions, they have the wisdom to know their limitations and call on me to take their ideas and accurately place them on a survey plan.

Land Surveyors are an integral part of any project involving plans. Sooner or later, the true position of a property line must be identified. And, as the Narragansett situation illustrates, this should be done at the beginning of a project. It is unfair to burden neighbors and the community with the tangible and intangible costs arising from the failure to properly depict the property line at the outset.

R.I. General Laws 5.8.1-17 ii states that, "It shall be the duty of all duly constituted officers in this state and all political subdivisions of the state to enforce the provisions of this chapter and to prosecute any persons violating those provisions." What happened in Narragansett was unfortunate. Our only remedy is for our town officials  to follow the law, do their job, and protect the public.

David Hilbern P.L.S.

Hilbern Land Surveying