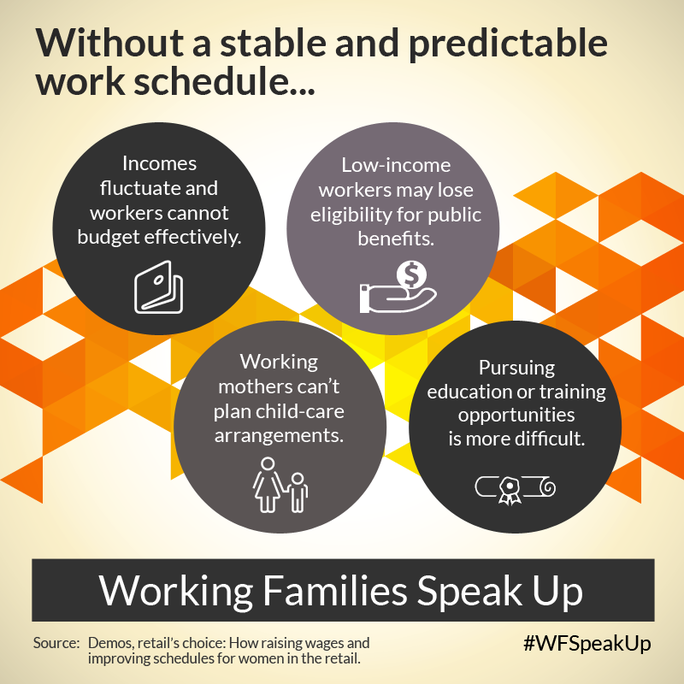 Aside from raising the minimum wage, fair scheduling legislation is one of the most important ways in which workers can get their lives under some semblance of control when working for companies that try to maximize profits and reduce labor costs by scheduling as close to last minute as possible. A little over a year ago San Francisco became the first city to pass the Retail Workers' Bill of Rights, a series of labor reforms centered around the idea of fair scheduling.
Workers at many retail and food service companies are required to always be available for work as management waits until they have up to the minute sales data and weather reports before deciding on whether or not to bring the worker in and pay them. This wreaks havoc on a worker's ability to arrange for child care, organize a school schedule, make travel arrangements to and from work or secure a second job to make ends meet.
A report, Set Up to Fail, demonstrates the difficulty many low-wage workers with unfair schedules face. "For many low-wage working parents, the conditions of their jobs effectively set them up to fail: meeting both their work and family obligations becomes an impossible juggling act. And too often, despite their best efforts, parents' low wages and work conditions undermine their children's chances for success as well."
After the success of fair scheduling legislation in San Francisco, activists in Minneapolis were cautiously optimistic about passing similar legislation in their city, until Mayor Betsy Hodges withdrew her support after getting pressure from the local Chamber of Commerce. According to writer Justin Miller, "In late September, opponents formed the Workforce Fairness Coalition by the Chamber of Commerce, and included prominent members like the Minnesota Business Partnership (which represents about 80 businesses, including Target, U.S. Bancorp and Xcel Energy) and the Minnesota Restaurant Association. They took specific issue with the scheduling law, saying that it would impede operations and could force businesses to flee the city."
Here in Rhode Island, the fight over fair scheduling began when the Greater Providence Chamber of Commerce (GPCC) brought the subject up at last week's luncheon. GPCC President Laurie White asked RI House Minority Leader Brian Newberry (R, District 48 North Smithfield and Burrillville) about fair scheduling, what she referred to as, "long term work scheduling requirements, otherwise known as predictive scheduling."
"How do we set the right balance between employers and workers in order to keep our small and mid-sized businesses competitive," asked White, "and also keep Rhode Island businesses competitive vis-à-vis other places?"
"You folks know better than anybody what kind of mandates help or hurt your businesses," replied Newberry, "so when it comes to [mandates such as fair scheduling] we need to hear from [business leaders], because there are always… well meaning advocates out there for all kinds of groups who are less interested in the fundamental cost of what they want… You need to talk to us. The business community in this state, not just the big business community but small businesses need to be more active [in lobbying government representatives]… if you don't do it, we don't hear from the right groups of people and we will make mistakes."
The language and contours of the coming fight are already taking shape, and advocates for fair scheduling here in Rhode Island have yet to raise their voices. Note that advocates for fair scheduling are condescendingly pronounced "well-meaning" by Newberry, as if their concerns simply emotional and compassionate, lacking any sense of business reality. Note that Chamber President White can't bring herself to call the scheduling "fair," that implies present scheduling is unfair, so she calls uses the words "long term" or "predictive" scheduling instead.
Note how Newberry recommends that the Chamber and other small business groups show up when these kinds of bills are being discussed in General Assembly committee meetings because presumably if the "right" groups of people don't advocate for profits over people, then the wrong groups of people will secure additional legal protections for people, something Newberry refers to as "mistakes."
Fair scheduling legislation has many different parts, but taken together, it empowers workers so that they are protected from abusive scheduling practices. Included in typical fair scheduling legislation are the following ideas:
Advanced notice of work schedules- Requires employers to give 3 weeks notice of schedules and 3 weeks to notify workers of changes to their schedules. It also allows workers to decline work hours not included on the original schedule.
Compensation for changed shifts- Provides one hour of predictability pay for employer-initiated changes to the schedule and provides minimum reporting pay when a shift is cancelled or significantly reduced with less than a day's notice.
Right to request flexible working arrangement- Allows workers to request scheduling accommodations without fear of retaliation.
Right to rest- guarantees a day of rest every week (workers do not have to work more than six days in a row) and guarantees adequate rest between shifts (no more "clopens" where a worker closes the store at midnight and opens the store at 6am.)
Equal treatment regardless of hours worked- prohibits discrimination in pay, promotion and benefits based on the number of scheduled hours
Retention pay- Requires employers to compensate workers for their availability by making a minimum biweekly payment of $150, which can be met through wages or benefit payments. No worker can be paid less than this amount for two weeks work.
Offer of work to existing workers- requires employers to offer work to existing qualified part-time workers before hiring new staff or temporary workers.
Also included in any legislation will be language on protection of these rights with penalties for employers who violate them, prohibitions of retaliation against workers who claim these rights, the posting of notices explaining these rights to workers, and enforcement requirements.
A decent list of fair scheduling resources can be accessed here at the National Women's Law Center. As with minimum wage and tipped minimum wage, women are disproportionately impacted by unfair scheduling.
Jobs with Justice has a terrific overview of fair scheduling legislation with links to additional resources here.
Also, CLASP (Center for Law and Social Policy) has a national repository of fair scheduling news articles, briefs, analyses, etc.
Senator Elizabeth Warren has been out front on this issue, and has introduced the Schedules That Work Act, though the likelihood of such a bill passing on the national level in a Republican controlled Congress is low.
This is why the battle for fair scheduling is being done on a state by state or city by city basis, and why the Greater Providence Chamber of Commerce is already making moves to oppose such legislation.
We cannot live our lives serving the whims of work. Work exists to serve people, and when we forget this, families suffer. Fair scheduling is a small step in addressing this injustice.
RI business community launches pre-emptive attack on fair scheduling

,