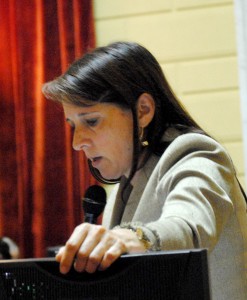 Lost in the aftermath of the budget was this gem (start at around 2:54; for fun, pay attention to Reps. Shekarchi and Morin reactions) from last Friday's House debate over Budget Article 1. In it, Rep. Karen MacBeth claims that the FBI temporarily seized control of her home computer for reasons unknown.
Now, I'm not a seasoned law enforcement professional, but given a lot of ink has been spilled over the ability of government to monitor Internet activity without much oversight, it seemed suspicious that the FBI would notify someone if they were hacking a computer. It seems to me that if you're looking for documentation of wrongdoing, you'd get a warrant or request it from a possibly cooperative source like MacBeth. And if you didn't want MacBeth or anyone to know, you'd get permission to do it secretly.
So I did what I usually do in cases like this, I searched "the FBI has taken over my computer" online. And I found this little piece of malware (more specifically, ransomware) known as "Reveton" or "the Moneypak Virus" from a number of articles from one to two years ago. Basically, it's something you accidentally download from either a bad website or email and then locks your computer until you pay. The ransomware poses as the FBI, or if you're in another country, that nation's police or cybersecurity force. The genuine FBI has been warning people about this virus for a while.

Now, the details of Rep. MacBeth's encounter with someone claiming to be the FBI hacking her computer doesn't quite match up with what's described in the above links, and from her summation of the events, we don't get a detailed picture of what happened. Perhaps it really was the FBI. Or perhaps, (and in my view, more likely) this was an iteration of the older piece of malware; since it's shown to be pretty adaptable.
If it's the latter, I hope the Speaker asks himself why he made her House Oversight Chair. Frankly, I'd look for a healthy level of skepticism on the part of the Oversight Committee Chair.
P.S. A number of articles note that this virus could be stopped by having up-to-date antivirus software. If you're a cheapskate like me, there are plenty of free alternatives. And yes, Mac users, that means you too! You get viruses as well, so protect yourself before you wreck yourself.