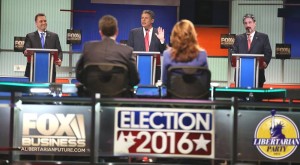 "They do not know it, but they are doing it." -Karl Marx
It is close to midnight on April 1, 2016 and I have just returned from the most vibrant Marxist gathering in Rhode Island that I have been to in years, a veritable hothouse of discussion about overcoming exploitation and the reign of terror capital inflicts on us in the hope of a better world. There were people talking about not just running but perhaps winning in elections that would shatter the duopoly system to its core.
Was I at the latest onanism session of the Trotskyites? A kiss-and-tell party of Stalinists? Maybe the Wobbly prom? No, in fact it was a Libertarian Party get-together!
Writing about libertarians breaks down into roughly two classes. You have either the antagonistic representations of the party as a bunch of dumb nativist yokels who commit unsightly acts with their mothers or the type of neoconservative Hegelianism, exemplified by Francis Fukyama and Christopher Hitchens, that says the American Revolution is the best show in town, ergo imperialism is great. The only person to my mind who even came close to ever grasping at the fact that there is something more to Libertarians was the late great Alexander Cockburn. He said in a 2002 speech:

In that sense I decided to use the Libertarian Party soiree this April Fool's Day to float the idea of building Vote Pacts and, using my anthropological and sociological training, to develop a kind of glossary of Libertarian language to help translate their views into a grammar Marxists can understand. Yet to consider myself as an outside observer would be a fatal flaw. They were warm, well-intentioned folk who I agree with on 70% of the issues and, when you interrogate the other 30%, you realize they might actually agree with you!
But to really hash through this, we need to articulate a new understanding of class warfare, Liberalism as a philosophy, who its successors are, and why John McAfee, the obvious rock star of the Libertarian Party presidential debate that was broadcast on Fox Business News, was either high as a kite or full of piping-hot crap when he said some of the most gallingly silly things imaginable.
The night took place at the Brewed Awakenings Coffee House in Warwick on Bald Hill Road, a locally-owned franchised business that has as much resemblance to a house as I have to Maria Callas. Pat Ford, Party chair and self-described recovering neoconservative, reserved the business meeting room with a plasma big screen television and surround sound system that was packed to the gills. Obviously much-missed from the affair was Bob Healey, the multiple-times candidate who recently died unexpectedly.
The Libertarian Party, at least in Rhode Island, could be described as the populist party of the working poor small business owner, the guy who is either burnt out by the corporatism of the Democrats or disgusted by the cartoonish social conservatism of the Republicans. They are the types who call themselves "socially liberal and fiscally conservative". But one can also put forward a very coherent point, based on the recent scholarship of Fredric Jameson, that the small business owner experiences their own form of exploitation due to the fact they do not actually own the means of production used in their labor.
Take for example my cobbler on Post Road in Warwick. The other day I went to get a shoe repaired and he had in his store, rather prominently displayed, a Trump t-shirt. Trump functions in the Republican realm the same way Sanders does in the Democratic realm and has absolutely terrified Wall Street because they cannot bribe him. Trump functions as the sheepdog for the Republicans in the way Sanders does the Democrats, taking votes away from a Libertarian Party that advocates for the small business owner. My cobbler may own the machine that is used to buff my shoes but, when the belt breaks on that machine, he does not own the supply factory producing the replacement belt. The exploitation he experiences from big capital is just as brutal as that of a worker in a factory making the shoes for low wages, it is just different in appearance. To own the means of production is to own the entire supply chain and network of transportation that brings the supplies from one point to another in the way a Rockefeller owned the oil wells, the drilling machinery, the railroads, and the dispensaries, ergo the equation of a small business owner with the Gilded Age capitalists is absurd. This is not to say that small businesses are incapable of abuses, they are quite prone to it, and to claim that ending their exploitation of workers through unionization is nullified would be equally absurd, particularly in regards to franchises owned by mega-corporations such as Wal-Mart and McDonalds. But it is equally absurd to deny that Marx was not concerned with tavern owners as much as with Rockefellers and that his lifetime collaborator, Engels, owned a factory in Manchester that was never the site of a notable union drive. When I talk with union activists these days, they are less inclined to unionize Ann and Hope than Wal-Mart.
The debate was moderated by John Stossel, the Ayn Rand acolyte with a populist knack and featured as candidates Gov. Gary Johnson, the obvious moderate that the Libertarians feel like they can bring to their disenchanted Republican friends as a viable alternative, Austin Petersen, the obvious conservative that the Libertarians feel like they can bring home to mom and dad, and John McAfee, the obvious liberal that the Libertarians know for certain they can bring to their drug dealer.
I found Petersen the most repulsive, perhaps due to the combination of his cocksure swagger combined with a blatant pandering to the Christian fascist element that wants to have us pledge allegiance to a crucifix draped in red, white, and blue and wanted to do nothing more than shove him in a locker and steal his lunch money.
Gary Johnson did nothing for me, particularly when he went down a utopian path saying he wanted to somehow outlaw bigotry while failing to expropriate the expropriators that are the source of chauvinism.
And John McAfee was this night's reincarnation of Hunter S. Thompson, loaded up with hilarious stories of the open road and just as hypocritical. What disgusts me with McAfee is simple. He was apt to talk about cutting spending by abolishing various federal departments. But he did not dare talk about ending the massive handout Microsoft gets annually from the federal, state, and municipal governments for the purchase of software licenses of an operating system that has been the bane of human existence for decades. Why? Simply put, if all these governments tomorrow were to transition to a Linux freeware system, as some countries in Europe have done, that would mean these Windows users would suddenly no longer be vulnerable to viruses that have made McAfee a mint for decades. Putting it another way, McAfee does not like government freebies unless they are coming his way. I give him props for having the guts to stand up to the FBI recently and promise to help crack the all-important I-Phone without having to compromise the privacy of so many of us. But such a transparent lack of integrity is pretty stupid.
After the debate, Pat Ford introduced various luminaries in the national party and gave me the floor to explain the Vote Pact idea. A few people were slightly skeptical because Bob Healey had failed to take the Governor's office. But I emphasized to them two things. First, it is abundantly clear that the Raimondo administration has been a warmer cooler disaster and they know very well that she lost many votes to the Cool Moose. Second, the Vote Pact relies on an old principle, basic school yard peer pressure. People were less-inclined to vote for Healey because they did not have the affirmation of a friend saying that voting for a third party was acceptable. The Vote Pact creates a kind of peer pressure that is key for this kind of (seemingly) risky decision making of going against the grain.
In my view, the Libertarians at their best are the actual successors of classical English Liberalism. Their opposition to unions and support of freedom is absolutely in line with the ideology of James and John Stuart Mill. But the reality is that they are stuck in a nineteenth century ideological time warp.
Just as the Liberals of the 1800's, the Libertarians either do not grasp how problematic their positions actually are or they are being charlatans in the name of the banking class. Their self-proclaimed World's Smallest Political Quiz in terms of personal issues is perfect and on economic issues could be a disaster if left to just a slogan.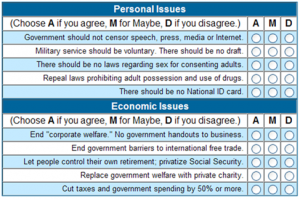 In terms of "corporate welfare", that could very well mean big banks. Or it could mean Food Stamps, which is a Welfare program that is giving money to food corporations in some instances and farmers markets in others. That's a tough nut to crack.
Privatizing Social Security is informed by the fact that retirees are subjected to economic terrorism due to political machinations around COLAs and other issues related to inflation, perhaps best represented by a report by the always-fantastic Dan McGowan. But the privatizing of the pension system in Rhode Island has not stopped terrorizing retirees, it has hurt them further. The substitution of a state-controlled trust fund that administers these benefits for high-risk, high-cost 401 (k)'s invested in hedge funds is a distinct possibility that would be created by a refusal of regulation in the market. What we need instead is perhaps a decentralization of Social Security that gives greater autonomy to state offices to administer benefits while guarding against the Wall Street effort to invest the fund in high-risk financial devices.
The replacement of government health agencies with charity was proven to be a disaster in the 1980's by the HIV/AIDS epidemic, Catholic hospitals in Greenwich Village and San Francisco refused to take in gay men and trans patients and treated their lovers and friends like garbage for fifteen years. The bravery of groups like ACT-UP was necessary because Ronald Reagan was showing the world what America without properly-funded federal agencies like the National Institutes of Health and Centers for Disease Control was truly capable of, namely apathy in the face of disaster. This issue is simple. The reality is that the First Amendment forbids mandatory association with anyone and protects people who claim their religion hinders them from helping certain parties. The only thing that protects the marginalized from further marginalization is the law. One needs only look to the writings of Michel Foucault to understand how ostracism of the sick happens.
The idea of cutting taxes and government spending by 50% or more sounds like a great start to an anti-imperialist position to me. We know that the Pentagon, the greatest recipient of taxpayer-funded freebies, ate up 54% of the discretionary spending budget in 2015 while veterans got 6%. Liberal anti-imperialism is not a new thing either, this country used to be the home of a gigantic and quite Liberal Anti-Imperialist League that featured everyone from Jane Adams to Mark Twain to Andrew Carnegie. The Libertarians are still holding true to this, hence the isolationism of Justin Raimondo at AntiWar.com and the recent pivot into isolationism by Donald Trump.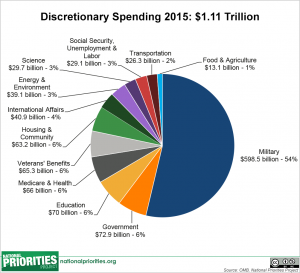 Now this is not to say I have delusions of perfection with the Libertarians either. I think their inability to shake off the racists stems back to their inability to understand what guns mean to black and brown people. For whites, it is all about safety and security. But the machismo of American gun culture, from what I am told by my African friends, does not bring to mind the pioneer spirit, it reminds them of the Fugitive Slave Act that deputized automatically all white men as agents of the state to recapture and return escaped Africans under penalty of law to the South. That is a major stumbling block the Libertarians need to overcome somehow.
After the debate, a guy was kind enough to give me a ride home. Over the night, we had talked about a variety of topics and he was amazed to find out that I am in favor of a variety of ideas he agrees with, including decentralization. He said he learned a lot from me and wanted to keep in touch. Then he told me the one that really blew my mind, saying that when I was explaining the Vote Pact thing I should have really laid into the corporations and corporate welfare, something I had chosen not to do so to keep the crowd with me.
Say what? Doth mine ears decieveth me or did I just hear one of the most coherent arguments for anti-capitalism made by one of the irredeemable heretics that the Left has been pigeonholing and antagonizing for years? The work of writers like Dr. Gary Chartier, endorsed wholeheartedly by the late Cockburn, is indicative of a logic informing this.
Another world is possible…