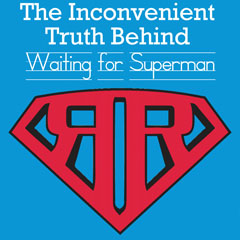 "The Inconvenient Truth Behind Waiting For "Superman"" highlights the real-life experiences of public school parents, students and educators to show how these so-called reforms are actually hurting public education. The film discusses the kinds of real reform – inside schools and in our society as a whole – that we urgently need to genuinely transform education in this country.
Sunday, February 5, 1pm at the Media Center at the Met, 325 Public St., Providence.
Join the Coalition to Defend Public Education for this film showing–and stick around for a discussion featuring special guest Brian Jones, co-narrator of the film! (via Skype)
Suggested donation: $5. Proceeds will be donated to the Grassroots Education Movement, the group that produced the film.
For information, call 401-400-0373 or email coalitiontodefendpubliced@gmail.com.
Feb 5: The Inconvenient Truth Behind Waiting for "Superman"

,