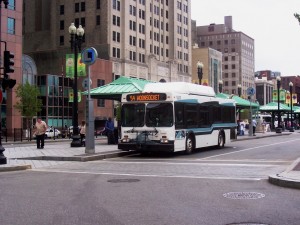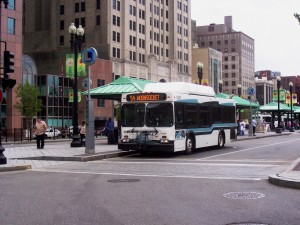 Last week, Senator Walter Felag, Jr. (D-Dist.10) introduced legislation that would reduce Rhode Island's gasoline tax by 5 cents per gallon. The legislation, he said,  would allow gas stations near the Massachusetts border to be more competitive with their neighbors to the north and east.
While Rhode Island's motorists and gas station owners may rejoice, this legislation is a proverbial kick in the teeth to those of us who depend on buses to get where were going.
As most of us know, the Rhode Island Public Transit Authority (RIPTA) is funded in large part by a percentage of revenue collected from the tax levied on the purchase of gasoline by retailers, who then pass that tax on to you, the consumer.
This funding formula is widely regarded as unsustainable, because as the price of gasoline goes up – as it generally tends to do –  people travel less by passenger vehicle and buy less gasoline by, oh… I don't know, let's say riding the bus. As more folks opt for public transit and reduce their consumption of near-4 dollar petrol, that part of RIPTA's revenue stream – like all fossil fuels eventually will – dries up, and without drastically increasing fares for our state's public transit system,  RIPTA is left holding the high-density polyethylene bag. Unfortunately, without the added revenue from the gas tax, that bag is not stuffed with money.
Put simply, when RIPTA ridership goes up, RIPTA revenue goes down.
The General Assembly had the opportunity to rectify the unsustainability of this funding formula way back in, now let's see if I can remember, oh, yeah… last session, after Representative Jeremiah "Jay" O'Grady (D – Dist. 46) introduced the Transportation and Debt Reduction Act of 2011. This bill would have provided – through increased fees for vehicle registrations and drivers licenses – a stable funding formula not only for RIPTA, but the Department of Transportation, as well, eliminating the need for both agencies to issue further bonds and increase the expanding public debt of the state. Unfortunately, only half of the bill was passed.
But how can they pass half a bill, you might ask?
Well, the bill passed pretty much as written, with one small exception. Any language relating to funding our public transit system was stripped from the bill entirely. The General  Assembly decided to kick the can down the single-passenger vehicle choked road once again, and wait for yet another transit study to tell them what they already know.
Here's Rep. O'Grady explaining his original bill. Video courtesy ecoRI News.
So, this year, when RIPTA comes calling for the share of the gas tax to which they are legally entitled, there will be fewer dollars in the bank to pay them.
Senator Felag can claim all day long that this bill is about market competitiveness but, at the end of the day, it is just reinforcing the car culture in Rhode Island, and telling the tens of thousands of Rhode Islanders that depend on our public transit system that they just aren't as important as the few dozen gas station owners whose stations are within 5 miles of the Massachusetts border.
Cutting The Gas Tax Throws RIPTA Under The Bus

,