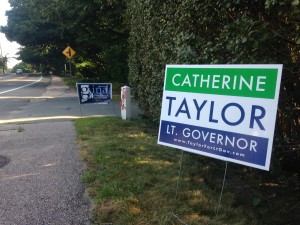 Here's a riddle that can only be answered if you've been paying close attention to the mixed up world of liberal political endorsements this year: Is a Republican woman more likely to win the endorsement of a labor union or a women's rights organization?
For Catherine Taylor, who is campaigning to be Rhode Island's next lt. governor, the answer was the AFL-CIO, a labor group that threw its support behind her earlier this month. Today RI-NOW announced it wasn't endorsing her – even though her victory could help cement a majority of women holding statewide offices.
"While Ms. Taylor shares our commitment to expanding health care access, supporting working families, and addressing the needs and concerns of our state's aging population (of which women make up the majority), we are not sufficiently aligned to be able to endorse her at this time," said RI NOW PAC Chair Carolyn Mark. "However, we view Ms. Taylor as a highly qualified candidate who understands the important role the office of Lt. Governor plays in our state, and we have every confidence that she is the type of leader with whom we would be able to work to create positive change for women and families in Rhode Island."
Taylor's opponent, Democrat Dan McKee, is a staunch charter school advocate, a concept anathema to teachers and some other AFL-CIO members.
"Catherine's understanding of the many challenges everyday Rhode Islanders face, along with her established track record of listening to the concerns of her employees while running the Division of Elderly Affairs, makes her the right choice for the office of lieutenant governor," said AFL-CIO's Maureen Martin in announcing their endorsement on Oct. 15. "Throughout her long tenure as the director of Elderly Affairs Mrs. Taylor showed compassion and concern not only for seniors, adults with disabilities, and families, but also for the many workers who provided care to some of Rhode Island's most vulnerable citizens."
Mark said RI-NOW's endorsement criteria has a particularly high bar, and a candidate need be with them on 100 percent of issues to win their backing.
"The bottom line for us is she's a fiscal conservative and a lot of our policies do require more funding," Mark told me. "She was unable to make any commitments to us that would increase public support."
As one example, Mark said Taylor does not support an increase in marriage license fees to support domestic violence prevention work. Mark said Taylor agrees more should be done but "she's not necessarily with us in the way we want to get there."
Female Republican wins AFL-CIO nod but not NOW's

,