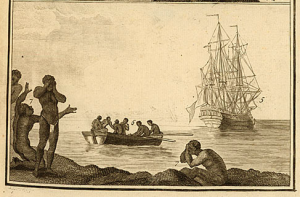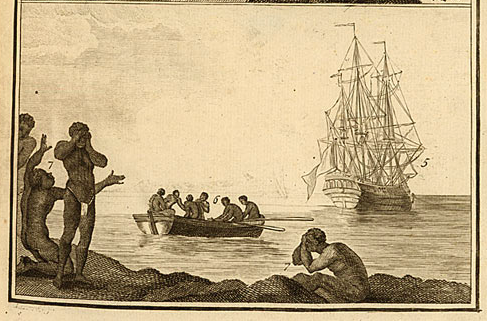 His name was John Harding. It must have been tough for a little white boy growing up in Newport, Rhode Island in 1805. Perhaps his mother and the other crewmen called him "Little John." After all, he was only 4ft, 3 1/2 in. when he enlisted as a seaman on board a Rhode Island-based slave ship called Charles and Harriot. Little John was 11 years old.
The vessel was bound for what is to today the southeast African nation of Mozambique. Upon arrival Little John's menial duties as a seaman expanded to that of a jailer of captive Africans. Indeed, all crew on board slave ships where jailers of a sort. How trying it must have been for Little John to maintain vigilant surveillance over a desperate human cargo after the long weeks at sea.
I wonder what Little John thought as he gazed into the lamenting eyes of captive Africans, as their shackled feet pressed their way onto the blood-stained sailing vessel of death. One can only imagine Little John fears as he beheld those humans — some of whom were his same age. "Will they kill me? Will I return home to my mother and father and brothers and sisters?" he must have speculated to himself."
And even still I wonder what Africans thought when they witnessed Little John, a mere child given charge to be the eyes and ears securing their captivity. As the beautiful African souls plotted their revolt, surely they imagined that Little John would have to be the first to die. He was the smallest, and thus, most vulnerable. "Yeah, we will change his fate and thereby change our ownt!" they thought to themselves.
Alas, it was not to be so. For Little John completed his first voyage as a seaman aboard this Rhode Island slave ship. The following year (1806) Little John returned to the seas where he celebrated his 12th birthday on board another "slaver." And no doubt the Africans who boarded this floating prison would attempt to make sure Little John never sailed again.
My semi-fictional narrative based on true events from the book The Notorious Triangle: Rhode Island and the African Slave Trade, 1700-1807, by Jay Coughtry
Fiction: A personal story of slavery in Rhode Island

,