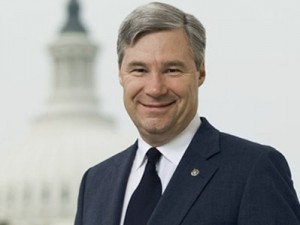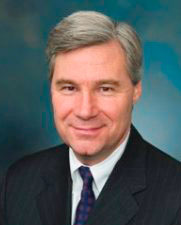 The last few years have been tough for our great Ocean State. Across Rhode Island, I've organized community dinners, main street tours, and coffee hours where I've heard firsthand from so many people struggling to find work, seniors worried about their Social Security and Medicare, families being crushed by unfair credit card rates, and students scared they are going to have to leave college because they can't afford tuition. People are hurting and they are frustrated, but they aren't giving up, and neither am I. I've listened and I've brought these stories with me to Washington, and it is my promise to you as your U.S. Senator that I will keep fighting to create jobs, protect essential benefits like Social Security and Medicare, and provide our kids with a brighter future.

OUR VOICE IN WASHINGTON                                        
Rhode Islanders sent Sheldon to the Senate to fight for us and against the big special interests – and that's just what he has done. We know that we can count on Sheldon to support our priorities – creating jobs, protecting families, and ending special deals for billionaires and big corporations. Sheldon has led the fight against moves to severely cut Social Security, Medicare benefits, and Pell Grants because he knows how much we in Rhode Island count on these programs.  And he has opposed giving more tax breaks to billionaires and multinational corporations while middle class families continue to suffer.
SHELDON'S PLAN
Putting Rhode Islanders Back to Work.  Sheldon has fought hard for legislation to create jobs, support small businesses, and revitalize our manufacturing sector.
Sheldon introduced legislation that would meet President Obama's call in his State of the Union speech to eliminate the tax loopholes that reward companies who ship US jobs overseas.
Sheldon helped pass a Senate bill to crack down on China's currency manipulation that costs American jobs by making it more expensive for us to sell goods to China, and cheaper for China to sell things here.
Sheldon is supporting legislation that could fund significant transportation improvements, such as repairing the I-95 viaduct in Providence, and provide new construction jobs in Rhode Island.
Sheldon has proposed a measure to provide tax credits to small businesses who hire unemployed workers to make it easier for a business to add new jobs.
Protecting Medicare and Social Security for Rhode Island Seniors. Sheldon will always be committed to preserving Social Security and Medicare benefits, and will continue fighting to reduce the cost of prescription drugs for seniors.
When Republicans in the House passed dangerous legislation to end Medicare as we know it, Sheldon helped lead the fight against that bill in the Senate.
Sheldon helped ensure that the health care reform bill closed the "doughnut hole" for prescription drugs covered under Medicare. More than 10,000 Rhode Island seniors benefited from this discount in 2011, saving $5.5 million dollars.
When budget negotiators threatened to pass new cuts to Social Security to reduce the deficit, Sheldon stepped up to protect that vital program and helped form the Senate's Defend Social Security Caucus.
Getting a Straight Deal for Middle Class Families.  Sheldon has heard from so many Rhode Islanders who are frustrated with the special deals enjoyed by big corporations and billionaires.  He shares that frustration and is working to restore the "straight deal" that middle class Americans expect and deserve – ending tax giveaways to Big Oil, combating unfair credit card interest rates, making sure millionaires and billionaires pay their fair share in taxes, and putting a stop to unlimited and anonymous spending by big corporations in our elections.
Supporting Education.   Providing our children with a good education is the most important thing we can do to give them the opportunity to get the best jobs in the future.
Sheldon is fighting to protect Pell Grants to make it easier for students to afford college. In 2009-2010, 19,937 Rhode Islanders received $69,567,944 in Pell Grants for an average of $3,489 per student.
Sheldon has been working to extend the Elementary and Secondary Education Act to improve our nation's middle schools by establishing a grant program to help fund reforms in struggling school systems.
Protecting our Environment and Coastal Economy.  In Rhode Island, the strength of our economy is strongly tied to the health of our environment.  Sheldon recognizes this, and is leading several bipartisan efforts to better protect our oceans and coasts – and the jobs they support.  He's working with Senator Snowe (R-ME) to establish a National Endowment for the Oceans, collaborating with Senator Vitter (R-LA) to re-authorize the National Estuary Program, and is co-chairing the Senate Oceans Caucus with Senator Murkowski (R-AK).  Sheldon will continue fighting to advance these priorities in 2012.
Stay in Touch: whitehouse.senate.gov, facebook.com/SenatorWhitehouse, twitter.com/SenWhitehouse