Comité en Acción is leading the charge on getting driver's licenses for undocumented workers in Rhode Island. Senate bill 391, which "would allow the department of motor vehicles to issue driving privilege licenses and driving privilege permits to applicants unable to establish lawful presence in the United States" has been held for further study, which is General Assembly language for "going nowhere."
But the fight isn't over yet.
I spoke to Sabine Adrian and Catarina Lorenzo, two leaders with Comité en Acción who are leading volunteers in a phone banking effort targeting Senate President Teresa Paiva-Weed, who has the power to bring the legislation to the floor for a vote in the Senate.
According to Sophia Wright, "States like Chicago, California, New Jersey and Connecticut, to name a few, have already taken the step towards greater equality by passing similar laws that provide licenses for all, regardless of immigration status."
During the May 21 public testimony on the bill, said Adrian, those in favor of allowing licenses for all were in the majority. Arguments against the bill almost exclusively focused on what opponents refer to as illegal immigration, but these issues are not really related. Allowing licenses prevents workers from operating a motor vehicle without the required training and testing. iT becomes a safety issue, and a quality of life issue for workers and their families.  The licenses allowed under this bill would not usable for the purpose of legal identification.
The Comité en Acción is not the only organization in the fight. They are part of a coalition, Todos Somos Arizona, that includes the Olneyville Neighborhood Association, English for Action, RI Jobs with Justice, RI Jobs with Justice, the American Friends Service Committee, Fuerza Laboral and others.
Those in favor of this legislation can sign this petition at MoveOn.
You could also call Senate President Paiva-Weed and let her know that you support this important bill.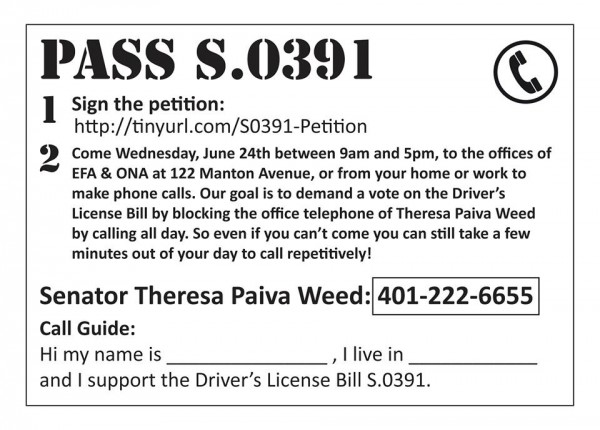 Final push to get driver's licenses for all, regardless of immigration status

,