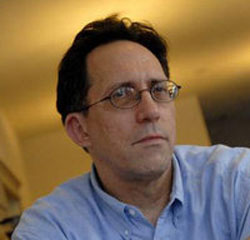 Last week, while waiting at the State House in the long line that formed to give testimony at the Senate Judiciary Marriage Equality bill hearing, I decided to check out the website of MassResistance, a group instrumental in the loud, raucous anti-Marriage Equality rally held when the House took testimony on the issue back in January and who repeated that performance for the Senate.
MassResistance, for those who don't know, is a Southern Poverty Law Center certified anti-LGBTQ hate group headed by bigot and homophobe Brian Camenker, who just this February compared school administrators who support LGBTQ students to "Nazi concentration camp guards" and claimed that homosexuals don't actually exist.
Imagine my surprise when State Senator Frank Lombardi, a Democrat from Cranston who sits on the Senate Judiciary Committee and an opponent of Marriage Equality, was interviewed on the MassResistance website:
Last week MassResistance spoke with Sen. Frank Lombardi (D-Cranston), one of the committee members. Sen. Lombardi, who supports traditional marriage, predicted the vote of the 10-member committee would be a tie — meaning the bill dies. But he acknowledged that it's is only his best speculation.
I was surprised that Lombardi would consent to an interview on the website of a hate group, and wrote up a quick piece about this for RI Future from my iPad. It's tough to format blog posts from my iPad for this site, so I asked my editor, Bob Plain, to put the finishing touches on the piece and post it. He did so, but in the process we lost the link to the MassResistance website where Senator Lombardi's comments could be found.
In the "middle of the night" Bob received a phone call from from Senator Lombardi's office informing him that the article I wrote was inaccurate. Senator Lombardi was claiming that he never spoke to MassResistance. Bob pulled the post pending confirmation of my source.
I conferred with Bob and sent him the link to the MassResistance website, showing that the story was accurate insomuch as MassResistance was claiming Lombardi talked to them, which Lombardi denied doing.  Obviously either MassResistance or Frank Lombardi was not being honest.
Lombardi denied talking to MassResistance, but acknowledged giving an interview to the Faith Alliance. The Faith Alliance has among its members a fair number of Evangelical churches, the Providence Catholic Diocese, the Knights of Columbus, NOM-RI and MassResistance. State Senator Harold Metts, a Democrat from Providence a member of the Senate Judiciary Committee with Lombardi, spoke at the January State House Rally in support of the Faith Alliance.
This raises some interesting questions.
Is the Faith Alliance merely an arm of MassResistance? If the unidentified writer of the piece on the MassResistance blog (I'm guessing it's Camenker) can call people up and identify as the Faith Alliance for the purpose of interviews, doesn't this indicate that MassResistance believes that it  speaks for all Faith Alliance members?
If MassResistance in truth cannot claim to speak for its various members, such as the Knights of Columbus and the Catholic Church, why resort to such a subterfuge when speaking to Senator Lombardi? Could it be that Camenker knows that being associated with his toxic hate group is politically poisonous and that no savvy politician would consent to talk to him otherwise?
I said way back in January, when MassResistance first entered our state and helped to form the Faith Alliance that aligning with such an odious hate group is "disgraceful."  I later called upon Bishop Tobin to repudiate the ugly comments and hateful views of MassResistance and Brian Camenker, something the Bishop or his spokesmen have declined to do.
It is obvious why religious groups and politicians have no wish to be associated with a group like MassResistance. Their opposition to marriage equality, they say, is based on his deep commitment to faith, not on anti-LGBTQ bigotry.
The problem, of course, is that they have aligned themselves with the Faith Alliance. And the Faith Alliance, it seems, is MassResistance.
I'm reminded of an old saying about laying down with dogs…
Fine Line Between Hate Group And 'Faith Alliance'

,