"Is this America the one we want? One and a quarter million immigrants getting food stamps, one-third of the people in your town." – Fox "News" to Woonsocket Mayor Leo Fontaine about the Washington Post's story about SNAP benefits.
It isn't just progressive news outlets like RI Future who are shining a light on the alarmingly high percentage of Woonsocket residents who can't afford to feed themselves without public assistance. Fox "News" interviewed Mayor Leo Fontaine about the national spotlight the city finds itself in.
[vsw id="tLAcT5b9NY0″ source="youtube" width="525″ height="344″ autoplay="no"]
"This comes down to a point of are serving a need or are we creating a need?" Fontaine says.
As a Woonsocket resident, a progressive blogger and a candidate for mayor, I would like to know if the current mayor thinks SNAP benefits are serving or creating a need. In fact, it's this very question that makes the Post story so politically charged. It's why it was big news this week for liberals, conservatives and moderates alike.
Speaking of moderates, Fontaine added immediately after big picture question, "Here in Rhode Island we just had a study done showing massive abuses of these programs, food stamps being going to people who are deceased, food stamps being given to people who are in prison."
He was referencing, of course, Ken Block's report on SNAP fraud.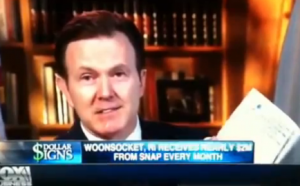 Fontaine concluded his opening salvo on national television by showing the Fox anchor that a voter registration form comes attached to SNAP registration forms, which he finds troubling.
"I think that this gets to the very root of the problem that are we serving a problem or are we creating a problem," he said.
Even the Fox employee was surprised by Fontaine's conservative take on the situation.
"I've got to say I'm surprised to be hearing you saying this," he said. "I thought I was going to be talking to a man who was a vigorous defender of the food stamp program because your town is so reliant on it."
Woonsocket is on the verge of bankruptcy. The schools almost closed last year because they didn't have enough money and more than half of our high school students failed the NECAP test. The Washington Post and Fox "News" are both talking about how our economic engine is the disbursement of food stamps.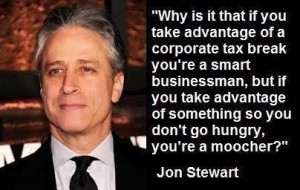 And yet the biggest business in the state, CVS, is located here in Woonsocket. The starving city gives the Fortune 500 company $275,000 in local tax breaks.
The state is much more generous. It gives the former ALEC corporate member a $15.4 million annual tax break. Gary Sasse called it "corporate welfare or socialism for the well-connected" in Wednesday's Providence Journal.
And while the state forgives the former ALEC member of half its annual tax bill for an employee tax break, CVS is asking employees to pay an extra $600 a year or submit to a more invasive health care screening, reports the Providence Journal this morning.
As Rhode Island and Woonsocket are struggling, the nation's largest drugstore made $3.88 billion in 2012 and CEO Larry Merlo took home $18 million in salary and bonuses.
A third of Woonsocket is on food stamps, CVS's CEO's salary went up by a third and now he gets $3 million more than the state gives in tax breaks.
"It seems that that's not quite the America we want to see," said the Fox "News" anchor to Mayor Fontaine.
Fontaine On Fox News: Blames SNAP Not CVS

,