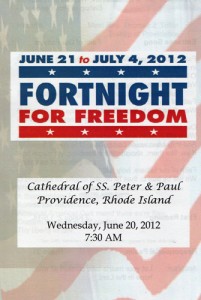 In the United States, Roman Catholic bishops have called for an alliterative "Fortnight for Freedom" to run from June 21, the vigil of the Feasts of St. John Fisher and St. Thomas Moore, to July 4. The bishops are calling on the faithful to use these two weeks for prayer, study and action, specifically regarding the HHS mandate, requiring employers to provide reproductive services as part of their health care. The Catholic Church, as well as many other religious, anti-reproductive rights groups, have decided this is an abridgment of their religious freedom and are waging a political and public relations war against the mandate.
Here in Providence, Bishop Thomas Tobin held a special mass and prayer breakfast at the Cathedral of Saints Peter & Paul bright and early on Tuesday morning to kick off two weeks of anti-Obamacare political partisanship. Of course, that's not how Tobin characterized this effort to the 400 plus believers in attendance:
We need to emphasize first of all what this commitment to the defense of religious freedom is not all about. This exercise is not primarily about the Church's teaching on contraception, although that teaching of the Church is very clear and valid. This is not a statement about women's health or national health coverage, although that too is a very legitimate issue. Nor is this an exercise of the church participating in partisan election politics during this election year, although Catholics certainly should be and must be involved in that process as well. The defense of religious freedom that we proclaim today is just that: the defense of religious freedom.
Later, Tobin reiterated the the Fortnight for Freedom:
…is not primarily political, it is above all a matter of faith.
Tobin then goes on to explain where he got his marching orders from: Pope Benedict. The pontiff recently warned visiting U.S. bishops about the proponents of "radical secularism" who seek to stifle the church's proclamation of "unchanging moral truths" that can be found through the church teachings on natural law. (CatholicNews.com)
The Fortnight for Freedom is truly aimed not at the average American but at the Catholic laity, "engaged, articulate and well-informed," who have an obligation, mandated by God, to confront politicians on issues of concern to the Catholic hierarchy, especially reproductive health care issues. As Tobin explains:
This is your task. This is your mission. This is your fight. It is my task… to inspire you, to motivate you and to encourage you. It is your task to go into the world and fight the battle, challenge politicians, and change unjust laws.
It is telling that at a forum ostensibly defending freedom of religion and conscience the phrase "separation of church and state" was never once uttered, even though Roger Williams, Thomas Jefferson and JFK, just to name three of countless examples, considered such an idea to be the bedrock of true religious liberty. Indeed, Tobin expresses nearly the exact opposite of this essential concept when he says:
It is your vocation, dear brothers and sisters, to transform the secular order into the Kingdom of God.
and later:
We believe that we are endowed with dignity and freedom, and first among those freedoms is the freedom to serve the one who created us…
So much for the values we Americans hold dear. The Kingdom of God does not sound like a place where democracy, or freedom of conscience, could possibly be welcomed. The Kingdom of God sounds exactly like what it is: theocratic rule by a religious elite. An unbiased look at the current and past make-up of the Catholic Church gives one a full picture of what this theocratic Kingdom of God will look like.
The interpretation of the First Amendment advanced by Bishop Tobin and the Fortnight of Freedom is Orwellian in nature. Democracy becomes theocracy. Freedom becomes servitude.
Let's face it: Real freedom of religion and conscience can only come when, as JFK so eloquently put it 52 years ago, "separation of church and state is absolute."
Fortnight Against Freedom

,