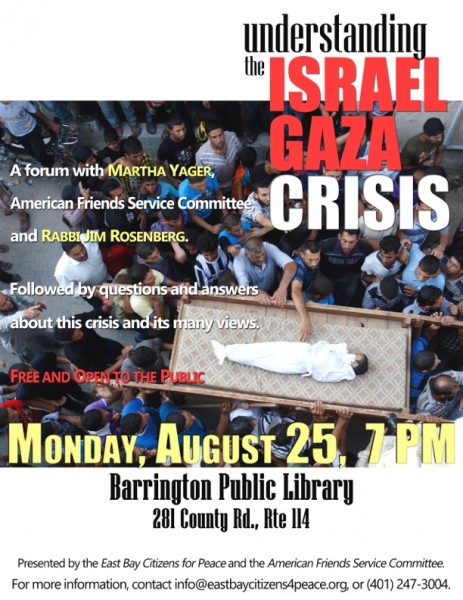 The ongoing state of war between Israel and Palestine that periodically erupts into catastrophic death and destruction does not easily lend itself to rational, compassionate discourse. Those who venture into this subject do so at the risk of being labeled apologists for genocide, accomplices to terrorism or some other conversation stopping label. Who are the brave souls willing to navigate these treacherous waters in Rhode Island?
Martha Yager, program coordinator for the Southeast New England office of the American Friends Service Committee, and Rabbi Jim Rosenberg, retired spiritual leader of Temple Habonim in Barrington, will discuss these views in forum on Monday, August 25, 7pm at the Barrington Public Library, 281 County Road (Rte. 114) in Barrington. The forum will be moderated by the Reverend Don Anderson, Executive Minister for the RI Council of Churches.
A time for questions and answers will follow the forum, which is sponsored by the East Bay Citizens for Peace, and the American Friends Service Committee. This forum is free and open to the public.
Any donations will be much appreciated.