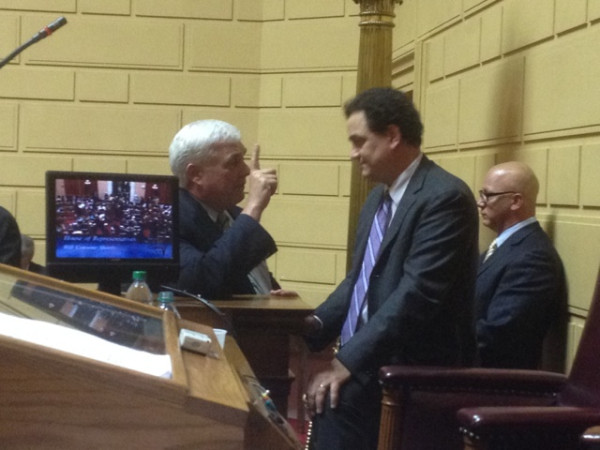 Former House Speaker Gordon Fox admits he took a bribe and used campaign cash for personal purposes.
In the first transgression, he stole from the citizens of Providence to get rich quick. In the other, he stole from State House special interests because he wasn't. One of these is a political sin of the highest order. The other is not good, but not nearly as bad.
Selling your vote is among the worst crimes a public official can commit. Fox says he did this in 2008 as a member of the Providence Board of Licensing when he accepted $50,000 in exchange for supporting a liquor license application to a Federal Hill restaurant. In doing so, he stole from the his hometown the right to a fair hearing. He robbed Providence of democracy. Opponents of the liquor license application may well have reason to re-visit the issue, but they are by no means the only victims.
For $50,000, Gordon Fox crushed the notion that everyone has an equal chance in the Ocean State. He cemented the belief that Rhode Island is a pay-to-play state, undoubtedly the single biggest stumbling block to enticing people to live and do commerce here. Anytime a public official places a higher value on their own finances than on democracy society is the victim, and this is especially true with blatant bribery.
Conversely, when Fox spent $108,000 from his campaign accounts on personal expenses, he stole more from politics than from society. Elected officials should never lie, and we've got a lot of reasons to doubt Fox's sincerity, but I'm not as mad at him for this one.
The reason any House speaker has $100,000 in a campaign account to abscond with is because special interests gave it to them hoping it will serve as a quid pro quo for political favor. The line between this legal activity and a bribe is blurry at best, and good government scholars disagree exactly where it falls. Only the explicit request for action separates campaign contributions from bribes. But both diminish democracy, and the idea that we all have an equal shot. Money corrodes democracy, as an illegal bribe and as a perfectly-legal campaign donation.
Other than for his personal use and his own reelection, Fox spent his campaign cash on lavish dinners for legislators, targeting political adversaries and helping political friends. Current Speaker Nick Mattiello does this too. This is why the General Assembly, here and in other states, as well as Congress, generally serve powerful special interests first and the average citizen second. Because the average citizen can only offer their vote and their support, and this commodity is entirely less fungible than cold hard cash on hand.
Don't believe me? Consider the political insider take on Fox's transgressions, according to RIPR blogger Scott MacKay: "…in Rhode Island political circles, the biggest rule he broke was the iron, if unofficial, Statehouse cliché: Don't take a dime while you are serving in the General Assembly. Then cash in for as much as you can make later. By living above his means as a lawmaker (fancy house and late-model Audis in driveway), Fox ruined his chances of getting rich as a lobbyist when his tenure as speaker was over."
Instead of becoming a wealthy lobbyist, I hope Gordon Fox is able to find redemption by becoming an advocate against the actions he took to build personal wealth and political power. He owes Rhode Island at least that much.
Fox stole from the public and from special interests

,